Starting a Business For Dummies, UK Edition, WHS Travel Edition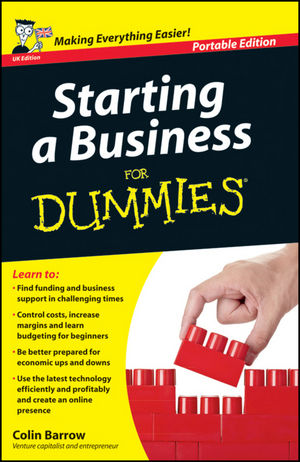 Starting a Business For Dummies, UK Edition, WHS Travel Edition
ISBN: 978-1-119-97440-6
May 2011
272 pages
Product not available for purchase
Description
Build a business that survives and thrives in any economy
Economists are predicting a bright future ahead for business start-ups. But with big changes underway in the business and economic landscapes, doing business in a post-recession world will pose new challenges while offering exciting new opportunities. This edition of the start-up classic shows you how to build a business agile and sturdy enough to weather any storm.
Packed with instructive real-life examples and links to hundreds of valuable resources, Starting a Business For Dummies gives you what you need to make the leap from employee to successful entrepreneur with confidence.
Take the first steps – business start-up guru Colin Barrow walks you through your first steps, from testing and developing your idea to writing a winning plan, getting start-up money and beyond

Built to last – everything you need to manage and grow your new business, including branding and marketing, hiring and firing, budgeting and bookkeeping

The lay of the land – Barrow guides you through the new business and economic landscapes
Open the book and find:
How to structure your business

The keys to writing a winning business plan

Where to look for and how to land funding and business support

Proven tricks for successfully marketing your wares

The smartest ways to find, recruit and manage the best staff

How to keep your business humming at peak efficiency and profitability
Learn to:
Find funding and business support in challenging times

Control costs, increase margins and learn budgeting for beginners

Be better prepared for economic ups and downs

Use the latest technology efficiently and profitably and create an online presence
Introduction.
Part I: Getting Started.
Chapter 1: Preparing for Business.
Chapter 2: Doing the Groundwork.
Chapter 3: Can You Do the Business?
Chapter 4: Testing Feasibility.
Part II: Making and Funding Your Plan.
Chapter 5: Structuring Your Business.
Chapter 6: Preparing the Business Plan.
Chapter 7: Getting Help.
Chapter 8: Finding the Money.
Chapter 9: Marketing Your Wares.
Part III: Staying In Business.
Chapter 10: Employing People.
Chapter 11: Operating Effectively.
Chapter 12: Keeping Track of Finances.
Chapter 13: Doing Business Online.
Part IV: The Part of Tens.
Chapter 14: Ten Pitfalls to Avoid.
Chapter 15: Ten People to Talk to Before You Start.
Index.