Starting a Business on eBay.co.uk For Dummies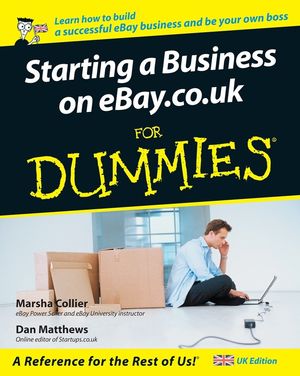 Starting a Business on eBay.co.uk For Dummies
ISBN: 978-1-119-99763-4 April 2011 348 Pages
Description
Starting a Business on eBay.co.uk For Dummies covers all the essentials an eBay user or budding entrepreneur needs to start a money-making venture by trading on eBay.co.uk. It features straight-talking advice on every aspect of starting and growing a successful business, including; setting-up shop, running successful auctions, delivering goods, keeping customers happy, and maximising profits.
Introduction.
Part I: Getting Serious About eBay.co.uk.
Chapter 1: Using eBay.co.uk to Launch Your Business.
Chapter 2: eBay.co.uk Business Basics.
Chapter 3: Essential eBay.co.uk Tools.
Chapter 4: Practising Safe Selling.
Chapter 5: Opening a Shop, Virtually.
Part II: Setting Up Shop.
Chapter 6: Stocking Your Shop.
Chapter 7: Knowing Your Merchandise.
Chapter 8: Establishing a Base: Your Web Site.
Part III: Serious Business!
Chapter 9: Software Built for Online Auctions.
Chapter 10: Money and Sense: Budgeting and Marketing Your Auctions.
Chapter 11: Jazzing Up Your Auctions.
Chapter 12: Providing Excellent Customer Service.
Chapter 13: Money Matters.
Chapter 14: Delivering on Your Promise.
Part IV: Your eBay.co.uk Admin.
Chapter 15: Going Legit.
Chapter 16: Practising Safe and Smart Record-Keeping.
Chapter 17: Building an eBay.co.uk Back Office.
Part V: The Part of Tens.
Chapter 18: Ten Successful (and Happy) eBay Sellers and Their Stories.
Chapter 19: Ten Strategies to Sell Your Stuff Successfully.
Appendix A: Glossary.
Appendix B: The Hows and Whys of a Home Network.
Index.
""....Also just published specifically for eBay.co.uk, rather than the US version, is the Dummies guide to Starting a Business on eBay.co.uk, which covers topics including: setting-up shop, running successful auctions, delivering goods, keeping customers happy and maximising profits..."" (
The Times Online
, May 2006)
""...worth a look whether you want to operate a sideline or a full-blown business..."" (The Guardian, June 2006)