Starting a Limited Liability Company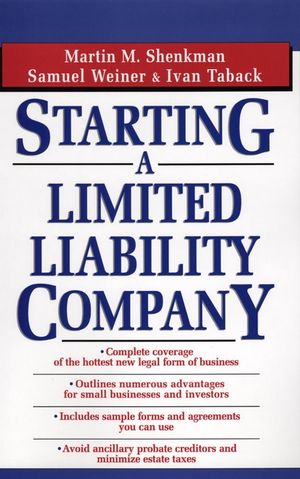 Starting a Limited Liability Company
ISBN: 978-0-471-13357-5 April 1996 256 Pages
Description
Everything you need to know about setting up, operating, andgetting the most out of the hottest new legal form ofbusiness

If you are a small business owner, investor, or high-net-worthindividual you've probably been hearing a lot lately about thelimited liability company. The hot new organizational structurethat businesspeople and investors nationwide are rushing to takeadvantage of, the LLC combines all the tax benefits associated withpartnerships with the limited liability protection of acorporation. Now legal in 48 states, LLCs are considerably cheaper,simpler, and easier to maintain than alternative organizationalforms, including Subchapter S corporations and limited familypartnerships. LLCs can own subsidiary companies; have greaterflexibility in allocating profits; and can have an unlimited numberof investors. LLCs are even better than limited partnerships forprotecting assets.

Now you can find out how a limited liability company can work foryou and exactly what you need to do to set up and operate one inthe first complete guide, Starting a Limited Liability Company.Leading tax and estate planning attorney and bestselling businessauthor Martin M. Shenkman and his coauthors:
* Explain how to apply LLCs to operating a business, estateplanning, protecting assets, real estate acquisitions, professionalpractices, avoiding ancillary probate, and venture capitaloperations
* Describe how to convert partnerships and various corporate formsinto LLCs
* Include a detailed glossary, along with checklists and loads ofsample legal forms you can use

The first complete guide of its kind, Starting a Limited LiabilityCompany is an indispensable resource for small business owners,real estate investors, and accountants.
Partial table of contents:

Comparing Limited Liability Companies with Other BusinessOrganizations.

SETTING UP, OPERATING, AND DISSOLVING YOUR LIMITED LIABILITYCOMPANY.

How to Set Up a Limited Liability Company.

Operating and Maintaining a Limited Liability Company.

USING LIMITED LIABILITY COMPANIES FOR SPECIFIC BUSINESSES ANDFOR FINANCIAL GOALS.

Professional Practices and Limited Liability Companies.

Family Businesses and Limited Liability Companies.

Using Limited Liability Companies for Asset Protection.

TAX ISSUES RELATED TO LIMITED LIABILITY COMPANIES.

Taxation of a Limited Liability Company.

New Issues, Problems, and Risks.

Epilogue.

Appendices.

Glossary.

Index.