Starting an eBay Business For Canadians For Dummies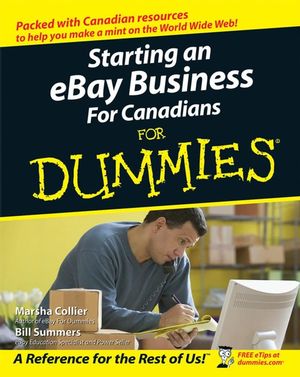 Starting an eBay Business For Canadians For Dummies
ISBN: 978-0-470-83946-1
Jan 2007
416 pages
Product not available for purchase
Description
Turn your hobby into a successful career
Starting an eBay Business For Canadians For Dummies covers the essentials an eBay user or budding entrepreneur needs to start a moneymaking venture by trading on eBay. Readers will discover not only the essentials of maximizing profits on eBay, but also how to run a smart eBay-based business. Topics include:
Setting up basic auctions
Building a store
Choosing what to sell
Setting good prices
Stocking your storeroom
Dealing with sales taxes
Shipping domestically and internationally
Canadians selling on eBay deal with many unique concerns which will be addressed in this adapted best-seller.
Introduction.
Part I: Getting Serious about eBay.
Chapter 1: Using eBay to Launch Your Business.
Chapter 2: The Finer Points of eBay Selling.
Chapter 3: Cool eBay Tools.
Chapter 4: Practising Safe Selling.
Chapter 5: Your Very Own eBay Store.
Part II: Setting Up Shop.
Chapter 6: Stocking the Store.
Chapter 7: Knowing the Value of What You're Selling.
Chapter 8: Establishing a Base of Operations: Your Web Site.
Part III: Business Is Business — No Foolin' Around!
Chapter 9: Software Built for Online Auctions.
Chapter 10: Dollars and Sense: Budgeting and Marketing Your Auctions.
Chapter 11: Jazzing Up Your Auctions.
Chapter 12: Providing Excellent Customer Service.
Chapter 13: When the Money Comes Rolling In.
Chapter 14: Getting It from Your Place to Theirs.
Part IV: Your eBay Back Office.
Chapter 15: Going Legit.
Chapter 16: Practising Safe and Smart Record-Keeping.
Chapter 17: Building an eBay Back Office.
Part V: The Part of Tens.
Chapter 18: Ten Successful (and Happy) eBay Sellers and Their Stories.
Chapter 19: Ten Other Places to Move Merchandise.
Part VI: Appendixes.
Appendix A: Glossary.
Appendix B: The Hows and Whys of a Home Network.
Index.