Starting and Running a Restaurant For Dummies, UK Edition, UK Edition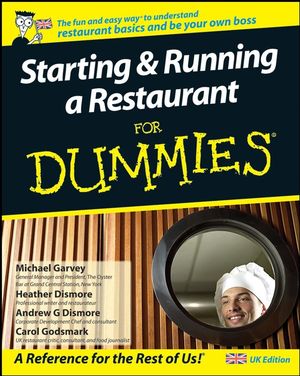 Starting and Running a Restaurant For Dummies, UK Edition, UK Edition
ISBN: 978-1-119-99704-7
Feb 2011
394 pages
Description
Starting & Running a Restaurant For Dummies will offer aspiring restaurateurs advice and guidance on this highly competitive industry – from attracting investors to your cause, to developing a food and beverages menu, to interior design and pricing issues – to help you keep your business venture afloat and enjoyable at the same time. If you already own a restaurant, inside you'll find unbeatable tips and advice to keep bringing in those customers. Read this book, and help make your dream a reality!

 

Starting & Running a Restaurant For Dummies covers:

 
Basics of the restaurant business
Researching the marketplace and deciding what kind of restaurant to run
Writing a business plan and finding financing
Choosing a location
Legalities
Composing a menu
Setting up and hiring staff
Buying and managing supplies
Marketing your restaurant
Health and safety
Introduction.
Part I: Getting Started.
Chapter 1: Grasping the Basics of the Restaurant Business.
Chapter 2: Getting Everything Done before Your Grand Opening.
Chapter 3: Deciding What Kind of Restaurant to Run.
Chapter 4: Researching the Marketplace.
Part II: Putting Your Plan in Motion.
Chapter 5: Writing a Business Plan.
Chapter 6: Show Me the Money! Finding Financing.
Chapter 7: Choosing a Location.
Chapter 8: Paying Attention to the Legalities.
Part III: Preparing to Open the Doors.
Chapter 9: Composing a Menu.
Chapter 10: Setting Up the Front of the House.
Chapter 11: Setting Up the Back of the House.
Chapter 12: Setting Up a Bar and Drinks List.
Chapter 13: Employing and Training Your Staff.
Chapter 14: Buying and Managing Supplies.
Chapter 15: Running Your Office.
Chapter 16: Getting the Word Out.
Part IV: Keeping Your Restaurant Running Smoothly.
Chapter 17: Managing Your Employees.
Chapter 18: Running a Safe Restaurant.
Chapter 19: Building a Clientele.
Chapter 20: Maintaining What You've Created.
Part V: The Part of Tens.
Chapter 21: Ten Myths about Running a Restaurant.
Chapter 22: Ten Sources of Info for Restaurateurs.
Chapter 23: Ten True Restaurant Stories You Just Couldn't Make Up.
Index.