Startup Asia: Top Strategies for Cashing in on Asia's Innovation Boom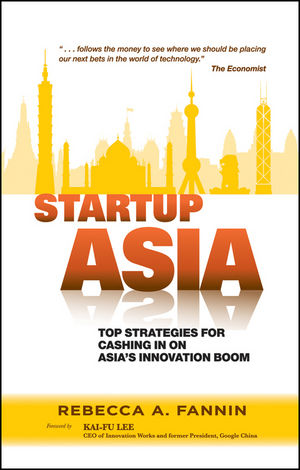 Startup Asia: Top Strategies for Cashing in on Asia's Innovation Boom
ISBN: 978-0-470-82993-6 September 2011 224 Pages
Description
Find out where the new innovation hot spots are, what the next consumer waves will be, and where to catch them
Asia's innovation hot spots are fast emerging as first-choice destinations for bright, young entrepreneurs. From Taiwan to Singapore, technology center hubs are forming to rival the original Silicon Valley. Startup Asia gives you a close-up view into the key growth trends shaping entrepreneurship in China and India, plus the new frontier market of Vietnam.
Showing how entrepreneurs and investors can start up in Asia and go global, the book provides a first-hand, on-the-ground tour of the new technology centers that are gaining momentum all over Asia. Interviews with the most successful venture capitalists and entrepreneurs reveal their winning strategies and show how a new generation of entrepreneurs in China and India are no longer looking to the West for their cues—but are instead crafting their own local business models and success strategies.
Shows entrepreneurs and investors how they can pursue their dreams of launching successful start-ups in Asia
Reveals that many of the same venture investors that first funded young businesses in Silicon Valley moved into China, then India, and are now finding their way to Vietnam
Addresses the risks of doing business in Asia's developing markets, including lack of intellectual property protection, political and regulatory shifts, bribery, and corruption
From high-profile Forbes contributor Rebecca Fannin, Startup Asia is the essential guide for anyone looking to trek into this new frontier.
Foreword by
Kai-Fu Lee
xv
Introduction 1
PART I ASIA'S HOTSPOTS OF INNOVATION 9
Chapter 1 China's Next Generation Tech Stars 11
Chapter 2 India Emerges to Narrow the Gap 47
Chapter 3 Vietnam: The Next Frontier 77
PART II ROAD MAP TO HOT SECTORS 101
Chapter 4 Catch the Mobile Boom 103
Chapter 5 Get In on the Cleantech Boom 115
Chapter 6 Ride the Consumer Wave 131
Chapter 7 Create a Niche in a Proven Sector: Outsourcing 143
PART III TOOLBOX FOR SUCCESS STRATEGIES 151
Chapter 8 Tap into Government Incubators 153
Chapter 9 Become the Next Twitter, LinkedIn, or Groupon for Asia 167
Chapter 10 Originate a Breakthrough Discovery 179
Chapter 11 Take Your Startup Public on the NYSE or NASDAQ 189
Chapter 12 Go Global from Asia 203
Afterword 213
Acknowledgments 215
Notes 219
About the Author 229
Index 231
"Rebecca Fannin has established herself as the preeminent expert on the emerging innovation economies of Asia. There is no better guide to understanding the countries and companies that are commercializing the disruptive technologies and ideas of the future."
Jason Pontin
Editor-in-Chief and Publisher,
Technology Review
"Rebecca Fannin, who caught the early waves of the Chinese Internet boom with her book Silicon Dragon, shows why we now need to be paying attention to VIC (Vietnam, India and China) in her forward-looking book Startup Asia. With diligent on-the-ground reporting and hard-won access, Fannin follows the money — the smart money of VCs who made money on both the U.S. and China Internet booms — to see where we should be placing our next bets in the world of technology."
Gady Epstein Correspondent, The Economist
"Startup Asia starts out with a bang and picks up steam from there. Rebecca Fannin has done her homework. She catches the Asian markets, as she takes the reader through China, India and Vietnam. The force of Asian innovation and market presence will be with us forever. You'll be well served by reading this excellent work and getting to know some of the players involved."
Dick Kramlich Chairman and Co-Founder, NEA
"Startup Asia takes readers on a whirlwind tour of the kaleidoscope of tech startups and venture activity across Asia. Only Ms. Fannin can combine facts, data and compelling personal stories of entrepreneurs in Asia into such a rewarding read. Should be on the Kindle shelf for every business school course on Asia or entrepreneurship."
Ron Schramm Professor, Columbia Business School and Chinese European International Business School
"Startup Asia is a must read! The shift of entrepreneurial activity to Asia is dramatically changing investment opportunities. No one has done more field research or has more thoughtful analysis and insights on this dramatic change than Rebecca Fannin!"
Patrick J. McGovern Founder and Chairman, International Data Group
"Rebecca Fannin delivers an inspirational journey from tech parks in India to half-constructed offices in Ho Chi Minh City. Startup Asia is a splendidly woven narrative of the leading entrepreneurs, venture capitalists and thinkers who are shaping the future that is being invented in Asia and envied around the globe."
Tony Nash Global Director, Custom Research, Economist Intelligence Unit