State and Society in Post-War Japan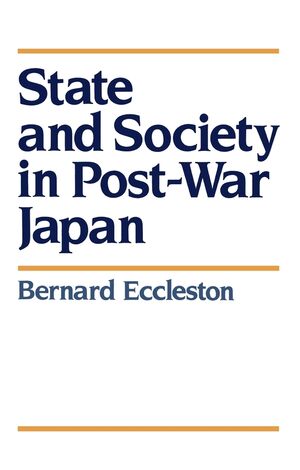 State and Society in Post-War Japan
ISBN: 978-0-745-60166-3
Jan 1991, Polity
270 pages
Description
State and Society in Post-War Japan integrates the previous work of disciplinary specialists into a coherent account of how Japanese society has changed since the war.

Bernard Eccleston focuses on the way the Japanese state has been managed in the face of unprecedented economic growth rates up to the mid 1970s, and their subsequent slackening in recent times. He examines how political and social processes are organized to reinforce the drive to make Japan the world's number one economy. In assessing the organizing role of the state, full weight is given to the ways in which the state incorporates competing interests by disarming the opposition of groups who have been excluded from the 'benefits' of economic growth. These groups include women, men working outside large firms, racial minorities, outcasts and citizens' protest groups.

Eccleston also raises important questions that are of direct relevance to other industrial societies. In particular, he asks what has been the cost to Japanese society of rapid economic development. Eccleston's answer provides a vital counterbalance to the prevailing tendency to see Japan as a blueprint for ailing Western economies.
Abbreviations.
Acknowledgements.
1. Conflict or Consensus: Competing Images of Japan.
2. An Economic Structure of Interdependent Rivals.
3. A Flexible Labour Market.
4. A Planned Market Economy.
5. The Japanese Polity.
6. Social Divisions in Japan.
7. Continuity and Change in the Japanese Social Process.
Bibliography.
Index.
"... a book which can be safely recommended to colleagues and students who want or need to know more about contemporary Japan." (
Times Higher Education Supplement
)
"[a] comprehensive study" (International Review of Administrative Sciences)
"an outstanding contribution. ...[this book] corrects many popular misconceptions about Japan ... a useful book because of the broad arguments that it develops." (British Journal of Industrial Relations)
"A substantial example of critical empirical sociology. It should become a standard text in the sociology of Japan and of industrial society." (Reviewing Sociology)
1. This book brilliantly examines how Japan has been able to maintain high rates of economic growth, low rates of unemployment and introduce new sectors and methods of production. 2. The volume assesses the costs to Japanese society of rapid economic growth and this counter-balances the prevailing tendency to look to Japan only for positive lessons to assist western economies. 3. The book offers a comprehensive, innovative and balanced account of Japan today.