State and Society in Western Europe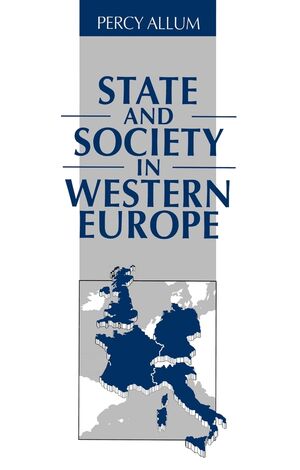 State and Society in Western Europe
ISBN: 978-0-745-60410-7 April 1995 Polity 656 Pages
Description
This is a major textbook in European politics. Comparative in approach, it examines the problems of West European democracies in the era of the Single European Act and the Treaty of Maastricht.
Allum discusses the politics of the four major Western European countries - Britain, France, Germany and Italy. He examines key institutions and developments in the light of contemporary social and political science paradigms, combining theory with empirical material. At the same time, he situates national politics within the broader context of European integration.
Comparative in intent, the book is organized around themes and not countries: economy, civil society and the state. It includes chapters on the economy, social structure, political cleavages and communication, parties and groups as well as governmental institutions (executive, administration, subnational government and coercive apparatus). Each chapter is illustrated with a wealth of concrete examples.
The book is intended for students of European and comparative politics, and for those concerned with the political aspects of European studies.
Table of contents
List of Figures.
List of Tables.
Introduction.
Part I: The Economic System: .
1. Mixed Economies.
Part II: Civil Society: .
2. Class, Gender and Race.
3. The Forming of Civil Society.
4. The Changing of Civil Society.
5. Parties and Party Systems.
6. Groups and Interest Intermediation.
Part III: The State:.
7. Government and Executive Power.
8. Public Administration and the Policy Process.
9. Subcentral Government and Centre-Local Relations.
10. The State and Invisible Power.
11. Actual Democracy in Western Europe since the War.
Notes.
References.
Index.
Reviews
"It is highly readable and a book I shall recommend to students."
Jack Hayward, Centre for European Politics, University of Oxford
"This book has much to commend it, not least its highly convincing attempt to fuse a 'conventional' political science approach with a public policy framework to offer a deeper understanding of western Europe's political systems ... the rather unorthodox comparative framework is one [students of German politics] may find stimulating." German Politics
"Very impressive." West European Politics
"This enormously ambitious work adopts a conventional thematic approach based on case studies of Britain, France, (West) Germany and Italy, but sets different priorities to those of other available textbooks. Explicitly analytical, it examines the relationship between the democratic constitutional state and capitalist society in Western Europe ... Its depth and comprehensiveness would recommend it as a 'review' text." Political Studies
"State and Society in Western Europe will prove to be a major textbook on European institutions and developments. It is a highly readable contemporary and comparative presentation of four European democracies and their institutions." Times Higher Education Supplement
Features
Combines contemporary social science paradigms with up-to-date analysis and empirical material
It is comparative in perspective, illuminating both the general situation of European democracies as well as that of the four countries in a historical perspective
The discussion is illustrated with a wide variety of figures and up-to-date statistics
The book will become established as a key textbook on European politics and will be widely adopted.