Statement on Auditing Standards, Number 125: Alert That Restricts the Use of the Auditor's Written Communication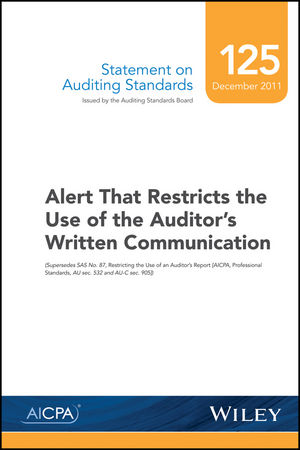 Statement on Auditing Standards, Number 125: Alert That Restricts the Use of the Auditor's Written Communication
ISBN: 978-1-937-35013-0 May 2017 48 Pages
Description
As a result of its Clarity Project, the Auditing Standards Board has issued Statement on Auditing Standards (SAS) No. 125, Alert That Restricts the Use of the Auditor's Written Communication, to:
Supersede SAS No. 87, Restricting the Use of an Auditor's Report (AICPA, Professional Standards, AU sec. 532 and AU-C sec. 905), and
Amend the following SASs:
SAS No. 117, Compliance Audits, as amended (AICPA, Professional Standards, AU-C sec. 935)
SAS No. 119, Supplementary Information in Relation to the Financial Statements as a Whole (AICPA, Professional Standards, AU-C sec. 725)
Several AU-C sections in SAS No. 122, Statements on Auditing Standards: Clarification and Recodification
SAS No. 125 addresses the auditor's responsibility, when required or the auditor decides, to include in the auditor's report or other written communication issued by the auditor in connection with an engagement conducted in accordance with GAAS language that restricts the use of the auditor's written communication. In an auditor's report, such language is included in an other-matter paragraph.