States of Development: On the Primacy of Politics in Development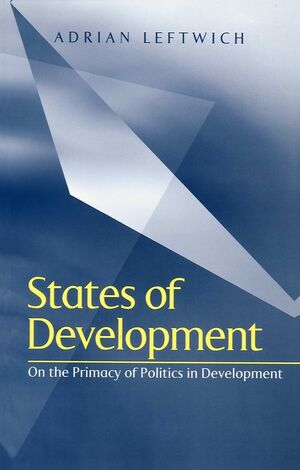 States of Development: On the Primacy of Politics in Development
ISBN: 978-0-745-60843-3 March 2001 Polity 240 Pages
Description
The spectre of poverty, disease and ignorance still haunts much of the developing world today. But not everywhere. Some societies, such as Botswana, Mauritius, Malaysia and Korea, are successfully transforming the material life of the majority of their citizens, though not always without costs in terms of human rights. Others, such as Peru, Zaire, India and the Philippines, appear incapable of doing so. In this widely comparative study, Adrian Leftwich examines why this has happened.


Focusing on the politics and states of a wide range of developing societies, Leftwich generates a model of the 'developmental state' as a particular sub-type of state in the modern world, and argues the case for the primacy of politics in development. He challenges a number of contemporary orthodoxies in western overseas development policy, especially the current insistence that democracy is a necessary condition for development.


States of Development will be essential reading for students and scholars in development studies and politics.
Acknowledgements.
Chapter 1: The Argument: The Primacy of Politics in Development.
Chapter 2: Progress, Growth and Modernization: Antecedents of the Development Idea.
Chapter 3: Meanings of Development: Postwar Developments.
Chapter 4: States of Underdevelopment.
Chapter 5: Governance and Development: Leaving Politics Out.
Chapter 6: The Politics of Democratic Governance in the Third World.
Chapter 7: Developmental States: Bringing Politics Back In.
Chapter 8: Democracy and the Development State: Democratic Practices and Development Capacity.
Chapter 9: Conclusion.
References.
Index
'Comfortable as it might be to think of development and democracy as compatible and mutually reinforcing, Leftwich's book provides a compelling warning against such simplistic, wishful and ideological theorizing. His conclusions are far from comforting, but constitute an invitation to a more realistic and politically aware analysis of the conditions and possibilities of development in different societies.'
International Affairs
"Adrian Leftwich's States of Development is a remarkable study of the appropriateness of past development policies, with an eye to the political environment in which they have operated." The Round Table
A A clear and accessible book that combines key issues in developmental studies with the central problems of politics.
A A comparative approach that offers a unique interpretation of the primacy of politics in development
A Provides a challenging approach to the contemporary orthodoxies in overseas development policy