States and Power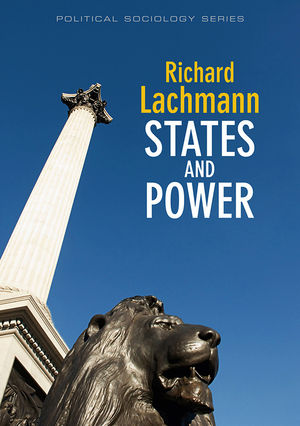 States and Power
ISBN: 978-0-745-65901-5 April 2013 Polity 248 Pages
Description
States over the past 500 years have become the dominant institutions on Earth, exercising vast and varied authority over the economic well-being, health, welfare, and very lives of their citizens. This concise and engaging book explains how power became centralized in states at the expense of the myriad of other polities that had battled one another over previous millennia.

Richard Lachmann traces the contested and historically contingent struggles by which subjects began to see themselves as citizens of nations and came to associate their interests and identities with states, and explains why the civil rights and benefits they achieved, and the taxes and military service they in turn rendered to their nations, varied so much. Looking forward, Lachmann examines the future in store for states: will they gain or lose strength as they are buffeted by globalization, terrorism, economic crisis and environmental disaster?

This stimulating book offers a comprehensive evaluation of the social science literature that addresses these issues and situates the state at the center of the world history of capitalism, nationalism and democracy. It will be essential reading for scholars and students across the social and political sciences.
Table of contents
Preface vii
Acknowledgments xiv
1 Before States 1
2 The Origins of States 25
3 Nations and Citizens 66
4 States and Capitalist Development 101
5 Democracy, Civil Rights, and Social Benefits 130
6 State Breakdowns 173
7 The Future 191
Notes 208
Bibliography 214
Index 229
Reviews
"A mini-classic, indispensible for those who are interested in the history and future of the nation-state and the international system. Essential."
Choice

"An excellent book ... all the more remarkable because in spite of its relative brevity it addresses its theme in a manner characterized among other things by its [chronological, geographical and theoretical] scope ... It is also characterized by an exacting methodological approach [and] contributes significantly to the reader's understanding of the matters he discusses."
Gianfranco Poggi,Sociologica

"In this highly readable and informative book, Richard Lachmann provides a wide-ranging survey over 500 years of state formation and transformation. He covers many epochs and five continents, addresses many theorists and numerous forms of state and regime, and explores multiple aspects of state capacities from war-making and taxation through public works and social benefits to changing forms of political legitimacy. Beginning with the distant origins of states, States and Power ends with informed speculation on the likely future of states and the state system. In short, this is an excellent introduction to a complex topic in historical sociology."
Bob Jessop, Lancaster University

"This book is concise, marvelously erudite and clearly written. Lachmann succeeds in presenting both the diverse theoretical constructs regarding state power and the analytically organized historical narratives which flesh out his own synthetic understanding of state power. To the best of my knowledge, Lachmann's achievement has no peer - States and Power has all the elements of an intellectual bestseller."
Georgi Derluguian, Northwestern University
What's New
An accessible yet rich account of the making and breaking of states by a stellar figure in the field.
Considers what political organization existed prior to states, how and why states rose to prominence, why states fail and what future is in store for states.
Concise, marvelously erudite and clearly written making it accessible to undergraduates and the general reader.
Presents both the diverse theoretical constructs regarding state power and illustrative historical narratives.