Statics and Mechanics of Materials: An Integrated Approach, 2nd Edition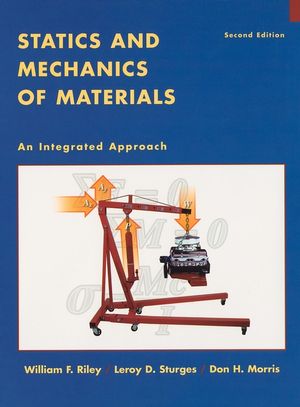 Statics and Mechanics of Materials: An Integrated Approach, 2nd Edition
ISBN: 978-1-118-94293-2 April 2014 738 Pages
Description
The second edition of Statics and Mechanics of Materials: An Integrated Approach continues to present students with an emphasis on the fundamental principles, with numerous applications to demonstrate and develop logical, orderly methods of procedure. Furthermore, the authors have taken measure to ensure clarity of the material for the student.



Instead of deriving numerous formulas for all types of problems, the authors stress the use of free-body diagrams and the equations of equilibrium, together with the geometry of the deformed body and the observed relations between stress and strain, for the analysis of the force system action of a body.


General Principles
Concurrent Force Systems
Equilibrium: Concurrent Force Systems
Stress, Strain, and Deformation: Axial Loading
Equivalent Force/Moment Systems
Equilibrium: Rigid Bodies
Torsional Loading: Shafts
Flexural Loading: Stresses in Beams
Flexural Loading: Beam Deflections
Combined Static Loading
Columns
* Vector Operations. Vector operations, previously in an appendix, have been integrated into sections of Chapters 2 and 5.
* More than 40% new or revised problems.
* New discussion of computational mechanics.
* Reorganization of Chapter 6. The structural applications in Chapter 6 have been rearranged so that the discussion of Frames and Machines precedes the discussion of Trusses. This new organization will help students recognize that forces in structure often do not act along the axis of the structural members.
Use of Free-Body Diagrams. Authors, Riley, Sturges and Morris, feel that a proper free-body diagram is very important in all mechanics courses. Whenever an equation of equilibrium is written, a complete, proper free-body diagram accompanies it.
Problem Solving Procedures. Statics and Mechanics of Materials: An Integrated Approach provides students with an effective methodology for problem decomposition and solution, the ability to present results in a clear, and logical manner is emphasized throughout the text.
Homework Problems. Over 1100 homework problems allow for varied problem assignments. Each set of problems represents a range of difficulty and is grouped according to this range of difficulty.
SI vs. U.S. Customary Units are used in equal proportions in the text for both example and homework problems.