Statistics and Data Analysis: An Introduction, 2nd Edition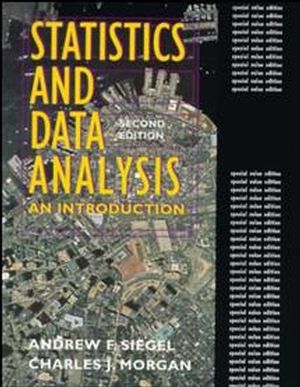 Statistics and Data Analysis: An Introduction, 2nd Edition
ISBN: 978-0-471-29332-3 February 1998 656 Pages
Description
Introductory statistics book for the non-technical person that integrates the traditional foundations of statistical inference with the more modern ideas of data analysis. The book is divided into three parts. Part One is concerned with data in general and with describing groups of numbers. Part Two develops the ideas of randomness, probability, and statistical inference. Part Three moves forward, applying these ideas to more complex data structures and the analysis of relationships.
DESCRIBING GROUPS OF NUMBERS.
The Shape of a Group of Numbers.
Describing Distributions.
Describing a Normal Distribution and Summarizing Binary Data.
Basics of Data Transformation.
Choosing a Description.
PROBABILITY, SAMPLING, AND TESTS OF STATISTICAL SIGNIFICANCE.
Probability.
Random Variables, Probability Distributions, and the Central Limit Theorem.
Toward Statistical Inference.
Confidence Intervals.
Testing a Hypothesis About the Mean.
MORE THAN ONE GROUP OF NUMBERS.
Comparing Two Groups of Numbers.
Analysis of Variance: Several Groups of Numbers.
Categorical Data and Chi-Square Analysis.
Bivariate Data and Regression.
Appendices.
Notes.
References.
Answers to Selected Problems.
Index.