Statistics at Square Two: Understanding Modern Statistical Applications in Medicine, 2nd Edition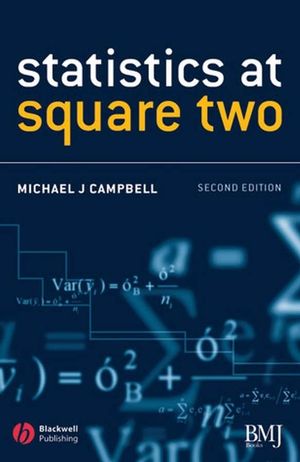 Statistics at Square Two: Understanding Modern Statistical Applications in Medicine, 2nd Edition
ISBN: 978-1-405-13490-3
Jun 2006, BMJ Books
144 pages
Description
Updated companion volume to the ever popular Statistics at Square One (SS1)
Statistics at Square Two, Second Edition, helps you evaluate the many statistical methods in current use. Going beyond the basics of SS1, it covers sophisticated methods and highlights misunderstandings. Easy to read, it includes annotated computer outputs and keeps formulas to a minimum.

Worked examples of methods such as multiple and logical regression reinforce the text. Each chapter concludes with exercises to stimulate learning.

All those who need to understand statistics in clinical research papers and apply them in their own research will value this compact and coherent guide.
1 Models, tests and data.
2 Multiple linear regression.
3 Logistic regression.
4 Survival analysis.
5 Random effects models.
6 Other models.
.
Appendix 1: Exponentials and logarithms.
Appendix 2: Maximum likelihood and significance tests.
Appendix 3: Bootstrapping and variance robust standard errors.
Appendix 4: Bayesian methods.
Answers to exercises.
Glossary.
Index
From a review of the previous edition

"This closely written but readable presentation of advanced methods increasingly used in the medical literature uses clinical examples to give meaning to these statistical methods. The experienced author reports the essence of statistical methods with only minimal use of mathematical notation. Underlying concepts are well described in the introductory chapter and in appendices, and the statistical references are excellent. Cautions on the misuse of methods abound. Useful guidance on presentation of methods and results appears in each chapter. Brief presentations of this quality are rare."
Annals of Internal Medicine, December 2001

About SS1 & SS2
"These two books are quite amazing. The depth and detail contained in these two tiny volumes is quite stunning. The way the two books have been written is succinct, and yet, does allow the student to understand the way the material is presented."

Senior Lecturer, Tissue Viability Unit
Updated companion volume to the ever popular Statistics at Square One (SS1)


Covers the sophisticated statistical methods that aren't included in SS1

Provides worked examples of methods such as multiple and logistical regression

Each chapter concludes with exercises to reinforce learning

Perfect for those who need to understand statistics in clinical research papers and apply them in their own research