Statistics for the Environment, Volume 3, Pollution Assessment and Control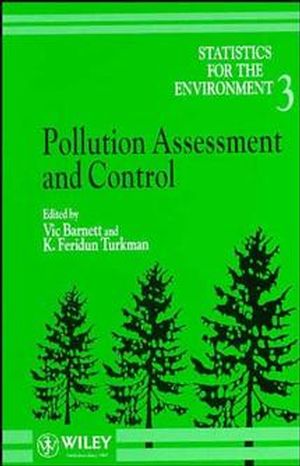 Statistics for the Environment, Volume 3, Pollution Assessment and Control
ISBN: 978-0-471-96435-3 July 1997 358 Pages
Description
Pollution is an environmental issue that concerns us all and is ofmajor importance in terms of its impact on people s health andtheir living and working environments. This most recent volume ofthe Statistics for the Environment titles comprises the latestresearch and case-study material on topics in this area, withdiscussions on the various ways in which statistical models andmethods can be used to advance knowledge and understanding of thedifferent aspects of the pollution problem. Containingcontributions from leading world experts in the use of statisticsin the environmental sciences, it is the only work of its kind atthis level. As with the previous two books, the editors haveproduced a cohesive and comprehensive overview of recentstatistical advances in the area of pollution. Topicsinclude:
* Policy and Management Issues
* Water Quality
* Sampling and Monitoring
* Radiation
* Air Quality
* Health and Ecology
An essential addition to the already successful Statistics for theEnvironment series, this book will be a valuable resource forstatisticians and scientists interested in the quantitative andqualitative aspects of pollution control, water contamination andenvironmental protection and conservation and many other pollutionrelated themes.
Partial table of contents:

Statistical Analyses of Pollution Problems (V. Barnett).

SAMPLING AND MONITORING OF POLLUTION.

Sampling and Efficient Data Use for Characterizing Polluted Areas(A. Stein).

Statistical Models for the Semi-Arid Land-Surface-AtmosphereProgram: An Integrated Monitoring Experiment (F. Avila).

RADIATION.

Bayesian Uncertainty Analysis and Radiological Protection (R.Haylock & A. O'Hagan).

AIR QUALITY.

Statistical Analysis of Trend in Urban Ozone (H. Vaquera-Huerta, etal.).

WATER QUALITY.

Geostatistics Applied to Hydrology Problems and Tools (D.Myers).

HEALTH.

Interpolating Air Pollution for Health Impact Assessment (J.Zidek).

Latencies, Exposures to Environmental Hazards, and Cancer Rates (Y.Mao & I. MacNeill).

POLICY AND MANAGEMENT.

Statistical Issues in Environmental Monitoring and Assessment ofAnthropogenic Pollution (L. Cox & N. Ross).

References.

Index.
"The book will be of interest and value to statisticians and environmental scientists dealing with pollution problems." (International Journal of Environmental Studies, Vol. 56, No. 1, 1999)