Status One: Breakthroughs in High Risk Population Health Management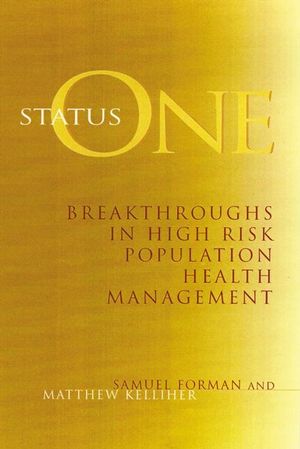 Status One: Breakthroughs in High Risk Population Health Management
ISBN: 978-0-787-94154-3
Jun 1999, Jossey-Bass
272 pages
Description
A Proactive Framework for Organizational Change



Learn to apply the principles of total quality management to the management of high-risk patients and improve quality of care, patient outcomes-and the bottom line.



"Finally, a model of managed health care that resonates with physicians and patients. A new direction for care management that makes sense on both humanitarian and financial grounds."--Sanford T. Kurtz, M.D., vice president and chief medical officer, Lahey Clinic



"An exciting, promising, practical, and brand new approach to solving the cost/quality dilemma in managed care--high-risk population health management. This well thought-out program focuses on managing patients, not physicians."--Stuart Baker, M.D., executive vice president of clinical affairs, Voluntary Hospital Association
Buy Both and Save 25%!
Original Price:$212.00
Purchased together:$159.00
save $53.00
Cannot be combined with any other offers.
Overview.

1. High-Risk Population Health ManagementComponents.

2. Segmenting the Population.

3. Information: The Right Kind, in the Right Place, in Time.

4. Structure: Building a Supportive Environment.

5. Assessing the Patient: Getting to the Heart of the Matter.

6. Formulating Care Plans: To Each According to Their Needs.

7. Renewals and Endings: Reassessment and Discharge.

8. Gauges on the Dashboard: Process and Outcome Measures.

Alternate Approaches to Medical Management.

9. Theory of the Case: Varied Ways to Identify High-Risk People.

10. Intervening on Behalf of the Severely Afflicted: Case Management.

11. Intervening by Clinical Condition: Disease Management.

12. AgAnda for the Future.

Sources and Rationale13. Total Quality Management: Concepts, High-Risk Patient Customers, Measures and Focus.

14. Epidemiology: Power and Limits of Statistical Approaches.

15. Economics: Structural Aspects and Costs in Managed Care Populations.

Putting it Together16. Summary: Best Practices in High-Risk Population Management.

References.

Exhibits.

Index.
"Forman and Kelliher present a compelling, field-tested approach to health care delivery and a new direction for case management that makes sense on humanitarian and financial grounds." --Kate Jennison Goonan, vicepresident, clinical performance improvement, UMass Memorial Health Care

"An exciting, promising, practical, and brand new approach to solving the cost/quality dilemma in managed care-high risk population health management. This well thought-out program focuses on managing patients, not physicians." --Stuart Baker, MD, executive vice president of clinical affairs, Voluntary Hospital Association

"Status One represents a critical development for delivering on the promise of improving the quality of care while simultaneously controlling costs." --Sam Nussbaum, MD, executive vice president, Medical Affairs and System Integration, BJC Health System

"The management of this high risk group is critical to future managed care success." --Joseph I. Berman, MD, chief medical officer, Anthem Blue Cross and Blue Shield

"Finally, a model of managed health care that resonates with physicians and patients. A new direction for care management that makes sense on both humanitarian and financial grounds." --Sanford T. Kurtz, MD, vice president and chief medical officer, Lahey Clinic