Steal These Ideas!: Marketing Secrets That Will Make You a Star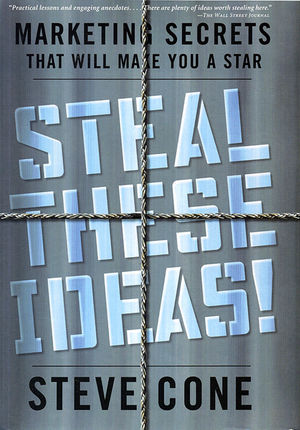 Steal These Ideas!: Marketing Secrets That Will Make You a Star
ISBN: 978-0-470-88507-9 May 2010 208 Pages
Description
Working for nearly thirty years with and for leading companies including Citigroup, American Express, Epsilon, Apple, and Fidelity—with notable political and not-for-profit campaigns along the way—Steve Cone has the kind of hard-earned, high-level experience that translates into valuable, tested ideas on what really works—and doesn't—in marketing.

In Steal These Ideas! Cone delivers hundreds of pearls in a sharp, no-nonsense, and witty style on all facets of marketing, branding, and advertising with all the candor and freshness one would expect from a knowledgeable good friend in the business.

Illustrated throughout with examples of the good, bad, and ugly in advertising, this is the secret stuff that no one ever teaches. Anyone can now steal these ideas and become a marketing star today.
Table of contents
Preface.

1 - Three Hidden Ingredients in Every Winning Marketing Campaign.
 
2 - In Simple Language: What Is a Brand? What Makes It Successful? How Do You Manage It?

3 - How to Create a Unique Selling Proposition .

4 - Create, or Hire, or Beg, to Build a Memorable, Distinctive Personality for Your Business.

5 - You Have to Be Able to See It to Read It.

6 - Brochures Kill Trees: Make the Trees That Die for You Count.

7 - Everlasting Tag Lines.

8 - Think Globally, Act Locally . . . to a Point.

9 - Integration Wins Wars and the Mind of the Consumer.

10 - Location, Location, Location: Get the Most from Your Media Dollars.

11 - No One Ever Bought Anything from an English Professor.

12 - The Three Most Important Customer Lessons You Will Ever Learn.

13 - The Art of Building Effective Loyalty Programs.

14 - Surprise! We're All Getting Older.

15 - The Big Breakthrough Idea: Where Does It Come From?

16 - The Web: Hype and Hope.

17 - The Power of Public Relations and Sponsorships.

18 - Politics and Promotion.

19 - In the Spotlight.

20 - Confucius and Stardom.

21 - How to Make the Most of Your Advertising Agency.

22 - The Ten Secrets You Really Need to Steal.

23 - Being All That We Can Be.

Index.
Reviews
"A busy executive's dream. . . . Peppered with practical lessons and engaging anecdotes. All in all, there are plenty of ideas here worth stealing."
—The Wall Street Journal

"Cone discusses the value of conferring a 'personality' upon a product, business or service as a way of subtly—but powerfully—making a connection to customers. All successful politicians do just that, and the 'marketing secrets' in the book are really ways to create that type of bond. Along with his practical advice, Cone's insights into the thoughts behind the words are invaluable."
—Miami Herald