Stem Cell Biology: Development and Plasticity, Volume 1049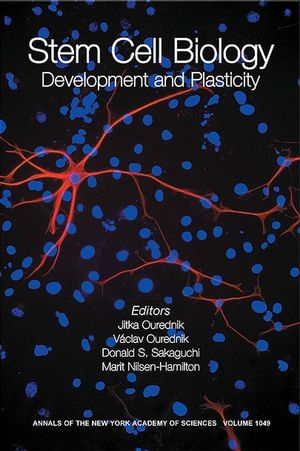 Stem Cell Biology: Development and Plasticity, Volume 1049
ISBN: 978-1-573-31534-0 May 2005 Wiley-Blackwell 216 Pages
Description
Stem cells have generated considerable interest recently in the scientific, clinical, and public arenas. It is essential that we gain a broader understanding of the factors that regulate the biology of stem cells: their ability for self-renewal, differentiation, and plasticity, as well as the differences between embryonic and adult stem cells. And to learn whether stem cells can be manipulated to replace cells in diseased tissues depends on better understanding their normal developmental properties.


This volume offers contributions from numerous interdisciplinary areas bridging biotechnology and biomedical sciences. The ability to isolate and maintain pluripotent stem cells in culture offers exciting possibilities for replacing damaged or diseased organs and tissues. Moreover, stem cells will provide opportunities for major advances in our understanding of fundamental developmental processes.


The study of pluripotent stem cells derived from early embryos or fetal tissues has shown that they are capable of replicating indefinitely in vitro and possess the ability to differentiate into many cell types. Biotechnological advances under which growth conditions and factors can be identified and characterized are needed to guide such cells to form organ-specific tissues.


Biomedical researchers are also investigating approaches to isolate and manipulate adult-derived multipotential stem cells that appear to possess considerably broader differentiation capacity than originally imagined.


Novel therapeutic strategies are being developed to take advantage of the ability of stem cells to proliferate in culture and to survive after transplantation into various tissues, where they may integrate and stably express foreign genes, or repopulate damaged or diseased organs such as the heart, brain, or pancreas.


These presentations foster a broader understanding of the factors that regulate the biology and plasticity of stem cells through the picture they provide of the "state of the science" of stem cell biology and by framing the many questions that remain to be answered.


NOTE: Annals volumes are available for sale as individual books or as a journal. For information on institutional journal subscriptions, please visit www.blackwellpublishing.com/nyas.

ACADEMY MEMBERS: Please contact the New York Academy of Sciences directly to place your order (www.nyas.org). Members of the New York Academy of Science receive full-text access to the Annals online and discounts on print volumes. Please visit http://www.nyas.org/MemberCenter/Join.aspx for more information about becoming a member.
Preface:
Jitka Ourednik, Václav Ourednik, Donald Sakaguchi, and Marit Nilsen-Hamilton.
Part I: Regional Determinants of Cell Fate:.
1. Oxygen in the Cultivation of Stem Cells. By Marie Csete.
2. DNA Damage-Induced Programmed Cell Death: Potential Roles in Germ Cell Development. By Yukiko Yamada and Clark R. Coffman.
.
Part II: Intrinsic Determinants of Stem Cells:.
3. G Protein-Coupled Receptor Roles in Cell Migration and Cell Death Decisions: Angela R. Kamps and Clark R. Coffman.
4. Growth and Differentiation of Astrocytes and Neural Progenitor Cells on Micropatterned Polymer Films: Jennifer B. Recknor, D S. Sakaguchi, and S K. Mallapragada.
5. Cellular and Molecular Regulation of Hematopoietic and Intestinal Stem Cell Behavior: Xi C. He, Jiwang Zhang, and Linheng Li.
6. The Function of the Neuronal Proteins Shc and Huntingtin in Stem Cells and Neurons: Pharmacologic Exploitation for Human Brain Diseases: Chiara Zuccato, Luciano Conti, Erika Reitano, Marzia Tartari, and Elena Cattaneo.
7. Engineering a Dopaminergic Phenotype in Stem/Precursor Cells: Role of Nurr1, Glia-Derived Signals, and Wnts: Ernest Arenas.
.
Part III: Transdifferentiation:.
8. Umbilical Cord Blood-Derived Stem Cells and Brain Repair: Paul R. Sanberg, Alison E. Willing, Svitlana Garbuzova-Davis, Samuel Saporta, Guoqing Liu, Cyndy Davis Sanberg, Paula C. Bickford, Stephen K. Klasko, and Nagwa S. El-Badri.
9. Infusion of Human Umbilical Cord Blood Ameliorates Neurologic Deficits in Rats with Hemorrhagic Brain Injury: Zhenhong Nan, andrew Grande, Cyndy D. Sanberg, Paul R. Sanberg, and Walter C. Low.
10. How Wnt Signaling Affects Bone Repair by Mesenchymal Stem Cells from the Bone Marrow: Carl A. Gregory, William G. Gunn, Emigdio Reyes, Angela J. Smolarz, James Munoz, Jeffrey L. Spees, and Darwin J. Prockop.
.
Part IV: Stem Cell Responses to Perturbation:.
11. Human Retinal Progenitor Cells Grown as Neurospheres Demonstrate Time-Dependent Changes in Neuronal and Glial Cell Fate Potential: David M. Gamm, Aaron D. Nelson, and Clive N. Svendsen.
12. Neural Progenitor Cell Transplants into the Developing and Mature Central Nervous System: D S. Sakaguchi, S J. Van Hoffelen, S D. Grozdanic, Y H. Kwon, R H. Kardon, and M J. Young.
13. Stem Cells for Retinal Degenerative Disorders: Jason S. Meyer, Martin L. Katz, and Mark D. Kirk.
14. Magnetic Resonance Tracking of Implanted Adult and Embryonic Stem Cells in Injured Brain and Spinal Cord: Eva Syková and Pavla Jendelová.
15. The Miniature Pig as an Animal Model in Biomedical Research: Petr Vodicka, Karel Smetana, Jr., Barbora Dvoránková, Teresa Emerick, Yingzhi Z. Xu, Jitka Ourednik, Václav Ourednik, and Jan Motlík.
.
Part V: Reciprocal Communication between Graft and Host:.
16. Graft/Host Relationships in the Developing and Regenerating CNS of Mammals: Václav Ourednik and Jitka Ourednik.
17. Grafted Neural Stem Cells Shield the Host Environment from Oxidative Stress: Lalitha Madhavan, Václav Ourednik, and Jitka Ourednik.
18. Administration of Allogenic Stem Cells Dosed to Secure Cardiogenesis and Sustained Infarct Repair: Atta Behfar, Denice M. Hodgson, Leonid V. Zingman, Carmen Perez-Terzic, Satsuki Yamada, Garvan C. Kane, Alexey E. Alekseev, Michel Pucéat, and andre Terzic.
Index of Contributors