Stem Cell Research: The Ethical Issues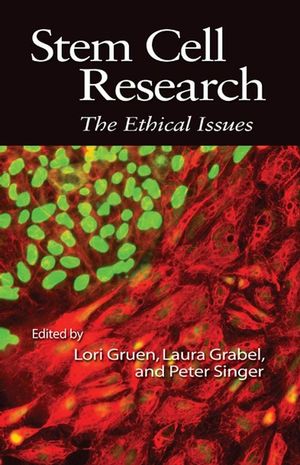 Stem Cell Research: The Ethical Issues
ISBN: 978-1-405-16062-9
Jan 2008, Wiley-Blackwell
224 pages
Description
In this timely collection, some of the world's leading ethicists grapple with the variety of issues posed by human embryonic stem cell research.



Investigates the moral status of the embryo including the creation of chimeras and paying for gametes (eggs and sperm) and embryos for research purposes


Provides a thorough evaluation of the ethics and politics of regulating hESC research, and the privacy, confidentiality, and informed consent in the conduct of research and clinical investigations


Essential reading for scientists, philosophers, policy makers, and all who are interested in the ethical conduct of science


Contributors include David DeGrazia, Lori Gruen, Elizabeth Harman, John Harris, Jeff McMahan, Don Marquis and Peter Singer
Notes on Contributors.
1. Introduction: Laura Grabel and Lori Gruen.
2. The Ambiguity of the Embryo: Ethical Inconsistency in the Human Embryonic Stem Cell Debate: Katrien Devolder and John Harri.
3. Killing Embryos for Stem Cell Research: Jeff McMahan.
4. The Moral-Principle Objection to Human Embryonic Stem Cell Research: Don Marquis.
5. How is the Ethics of Stem Cell Research Different from the Ethics of Abortion?: Elizabeth Harman.
6. Respecting Human Embryos within Stem Cell Research: Seeking Harmony: Bertha Alvarez Manninen.
7. Rescuing Human Embryonic Stem Cell Research: The Possibility of Embryo Reconstitution after Stem Cell Derivation: Katrien Devolder and Christopher M. Ward.
8. The Moral Status of Stem Cells: Agata Sagan and Peter Singer.
9. Oocytes for Sale?: Lori Gruen.
10. Human-Animal Chimeras: Human Dignity, Moral Status, and Species Prejudice: David Degrazia.
11. Why No Compromise is Possible: Torbjörn Tännsjö.
Index
"Recommended reading for all who have their doubts … .The book works impressively and convincingly through the various arguments related to stem cell research." (Ethical Perspectives, Autumn 2009)


A timely collection where some of the world's leading ethicists assess the variety of issues posed by human embryonic stem cell research

Investigates the moral status of the embryo including the creation of chimeras and paying for gametes (eggs and sperm) and embryos for research purposes

Provides a thorough evaluation of the ethics and politics of regulating hESC research, and the privacy, confidentiality, and informed consent in the conduct of research and clinical investigations

Essential reading for scientists, philosophers, policy makers, and all who are interested in the ethical conduct of science

Contributors include David DeGrazia, Lori Gruen, Elizabeth Harman, John Harris, Jeff McMahan, Don Marquis and Peter Singer