Stem Cell Therapeutics for Cancer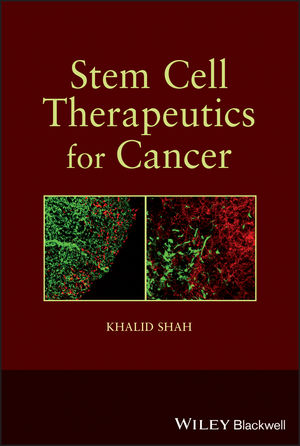 Stem Cell Therapeutics for Cancer
ISBN: 978-1-118-66062-1
Aug 2013, Wiley-Blackwell
304 pages
Description
Stem Cell Therapeutics for Cancer covers the application of stem cells in various cancers, with an emphasis on the aspects of these strategies that are critical to the success of future stem cell-based therapies for cancer. Topics covered in the book include stem cell sources, tumor specificity, targeted therapeutics, visualizing the stem cell, and therapeutic agent pharmacokinetics. Each chapter contains a brief introduction to the cancer, followed by an exploration of how engineered stem cells have been utilized to cure the disease in mouse models and in early phase clinical trials.


Comprises of sections on stem cell therapy in brain cancers, lung cancers, breast cancers, as well as stem cells in combination with other therapies
Focuses on the practical applications of using stem cells as gene delivery agents to treat cancer
Includes coverage of cutting-edge molecular imaging techniques in stem cell therapeutics for a variety of tumour types
Contributors vii
Preface xi
Section 1 Introduction 1
1 Stem Cell Sources and Their Potential for Cancer Therapeutics 3
Khalid Shah
Section 2 Migration and Fate of Stem Cells 11
2 The Role of CXCR4 as a Mediator of Glioma-Tropic Neural Precursor Cell Migration 13
Moneeb Ehtesham, Elliot Min, and Rebecca Kasl
3 Tumor Tropism of Mesenchymal Stem Cells 21
Paula Y. P. Lam and Ivy A.W. Ho
Section 3 Stem Cell Therapy in Brain Cancer 39
4 Stem Cell-Mediated Trail Therapy for Highly Aggressive Brain Tumors 41
Khalid Shah
5 Stem Cell-Mediated Prodrug Gene Therapy of High-Grade Brain Tumors 57
Cestmir Altaner
6 Role of Naïve Cord Blood Stem Cells in Glioma Therapy 73
Venkata Ramesh Dasari, Kiran Kumar Velpula, and Jasti S. Rao
7 Stem Cell-Based Antiangiogenic Therapies for Brain Tumors 87
Navid Redjal and Khalid Shah
8 Treatment of Metastatic Neuroblastoma with Mesenchymal Stem Cell-Based Oncolytic Virotherapy 103
Manuel Ramírez and Javier García-Castro
Section 4 Stem Cell Therapy in Other Cancer Types 111
9 Umbilical Cord Matrix Stem Cells for Cytotherapy of Breast Cancer 113
Naomi Ohta, Atsushi Kawabata, Deepthi Uppalapati, Susumu Ishiguro, Deryl Troyer, and Masaaki Tamura
10 Mesenchymal Stromal Cells as Effective Tumor Antigen-Presenting Cells in Cancer Therapeutics 127
Raphaëlle Romieu-Mourez and Jacques Galipeau
11 Diagnostic and Therapeutic Mesenchymal Stem Cells for Breast Cancer Treatment 145
Róisín Dwyer
12 Genetically Engineered Stem Cell Therapies Targeting Gastrointestinal Malignancy 159
Emily Keung, Peter J. Nelson, and Claudius Conrad
13 Mesenchymal Stem Cells in Prostate Cancer: Clinical Opportunities 171
Diptiman Chanda and Selvarangan Ponnazhagan
14 Primed Mesenchymal Stromal Cells for Cancer Therapy 187
Augusto Pessina, Arianna Bonomi, Eugenio Parati, Roberto Pallini, and Giulio Alessandri
Section 5 Combinatorial Stem Cell Therapies 203
15 MicroRNA Adjuvants in Stem Cell-Based Cancer Therapy 205
Maarten C. J. Anderegg and Maarten F. Corsten
16 Stem Cell-Based Combination Therapies for Cancer: Systemic Delivery of a PI3K/mTOR Inhibitor (PI-103) and Stem Cell-Mediated Delivery of TRAIL in Brain Tumors 219
Tugba Bagci-Onder
17 The Efficacy of Clinically Approved Agents with Stem Cell-Delivered Therapeutics for Cancer Therapy 235
Hiroaki Wakimoto and Khalid Shah
Section 6 Tracking Stem Cells and Stem Cell-Based Therapeutics 245
18 Imaging Migration and Fate of Stem Cells in Experimental Models of Cancer 247
Deepak Bhere and Khalid Shah
19 Multifunctional Molecules for Interrogating Stem Cell-Based Therapeutics 257
Shawn Hingtgen
20 Tracking Cancer-Targeted MSC with PET Imaging 273
Véronique Roelants and Jean-Louis Vanoverschelde
Index 289
Color plate is located between pages 244 and 245.