Stem Cells in Regenerative Medicine: Science, Regulation and Business Strategies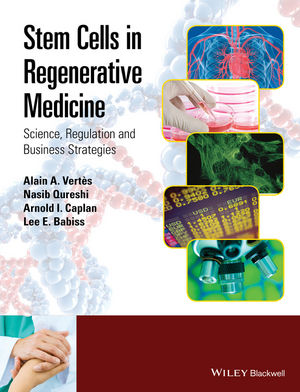 Stem Cells in Regenerative Medicine: Science, Regulation and Business Strategies
ISBN: 978-1-118-84619-3 March 2016 Wiley-Blackwell 776 Pages
Description
This book is a unique guide to emerging stem cell technologies and the opportunities for their commercialisation. It provides in-depth analyses of the science, business, legal, and financing fundamentals of stem cell technologies, offering a holistic assessment of this emerging and dynamic segment of the field of regenerative medicine.

• Reviews the very latest advances in the technology and business of stem cells used for therapy, research, and diagnostics

• Identifies key challenges to the commercialisation of stem cell technology and avenues to overcome problems in the pipeline

• Written by an expert team with extensive experience in the business, basic and applied science of stem cell research

This comprehensive volume is essential reading for researchers in cell biology, biotechnology, regenerative medicine, and tissue engineering, including scientists and professionals, looking to enter commercial biotechnology fields.
Table of contents
List of contributors vii
Foreword xi
Preface xiii
Part I: The stem cell business
1 Therapeutic stem cells answer a strategic breakthrough need of healthcare 3
Alain A. Vertès
2 Ethical considerations on the research and business of stem cells 27
Ljiljana Minwalla
3 Projected growth of the world-wide stem cell market 43
Ed Field
4 Cell therapy manufacturing: identifying and meeting demand 49
Jessica Carmen David A. Brindley Natasha L. Davie and David Smith
5 The history of stem cell transplantation 69
Hillard M. Lazarus and Stanton L. Gerson
6 Regulatory and intellectual property considerations for therapeutic human stem cell-based regenerative medicine product development: a US perspective 87
Michael Mendicino and Darin Weber
7 The regulation of stem cells in the UK and the EU 125
Alex Denoon Julian Hitchcock and James Lawford Davies
Part II: Stem cells as research tools
8 The business of stem cell research tools 149
Erik Miljan
9 Stem cell-derived cardiomyocytes and hepatocytes as tools for drug development and screening applications 171
Kate Cameron Howard Marriage David Hay and Claire Medine
10 Stem cell tools for compound development 193
Thomas J. Novak
11 Stem cell origin of cancer: prospects for functional therapeutics and regenerative medicine 215
Vinagolu K. Rajasekhar
Part III: Stem cells as veterinary medicines
12 The market for stem cell medicines for domestic and high value animals 247
Robert J. Harman
13 Stem cells in veterinary medicine: a conceptual approach 257
John Peroni and Lindsey Boone
14 Stem cell veterinary medicines: a practical approach 275
Robert J. Harman
15 Stem cell veterinary medicines as signs pointing towards successful human stem cell therapeutics 289
Alain A. Vertès
Part IV: Stem cell therapeutics
16 Animal models in regenerative medicine 303
Andrew N. Bubak John D. Elsworth and John R. Sladek Jr.
17 Stem cell characterisation: a guide to stem cell types technologies and future applications 317
Justin Lo Re Rezma Shrestha and Leonard Sciorra
18 Stem cell value chains 341
Judy Muller-Cohn Paul Diaz and Rolf Muller
19 Stem cell culture processes 355
Ravali Raju Shikha Sharma and Wei-Shou Hu
20 Indication transformation maps and the challenge of live cell delivery 375
Robert Deans and Lee E. Babiss
21 Delivery and targeting of therapeutic cells 387
Paul Lin Arnold I. Caplan and Erkki Ruoslahti
22 Hematopoietics stem cells 397
Stephen D. Wolpe and Lynnet Koh
23 MSCs: the new medicine 415
Arnold I. Caplan
24 Innovation and commercialisation of induced pluripotent stem cells 423
Shintaro Sengoku
25 Embryonic stem cells 447
Rachel Eiges Naomi Zak Benjamin E. Reubinoff and Charles S. Irving
26 Allogeneic versus autologous stem cell transplantation in regenerative medicine 487
Katarzyna A. Trzaska-Accurso and Pranela Rameshwar
Part V: Perspectives
27 Immunological barriers to regenerative medicine: do they matter? 499
Cristina Trento and Francesco Dazzi
28 Challenges in the clinical development of stem cells 511
John P. Caulfield
29 Pricing and reimbursement of regenerative medicines 525
Nathan J. Dowden
30 The role of patient advocacy in the clinical translation of regenerative medicine 543
Bernard Siegel and Alan L. Jakimo
31 Financing strategies for regenerative medicine start-ups 615
Carol Julie Walton Lee Buckler and Gregory A. Bonfiglio
32 Strategic alliances mergers and acquisitions in regenerative medicine 643
Nafees N. Malik Timothy E. Allsopp and Devyn M. Smith
33 History of monoclonal antibodies and lessons for the development of stem cell therapeutics 665
Alain A. Vertès and Nathan J. Dowden
34 Deployment of stem cell technologies in industry and healthcare 693
Alain A. Vertès
Index 723