Stephen Roach on the Next Asia: Opportunities and Challenges for a New Globalization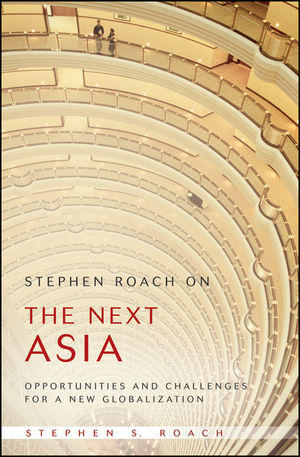 Stephen Roach on the Next Asia: Opportunities and Challenges for a New Globalization
ISBN: 978-0-470-64604-5
Oct 2010
432 pages
Description
As Morgan Stanley's chief Asia specialist, getting Asia right is Stephen Roach's personal obsession, and this in-depth compilation represents more than 70 of Roach's key research efforts not just on Asia, but also on how the region fits into the broad context of increasingly globalized financial markets. The book argues that the "Asia factor" is not a static concept, but rather one that is constantly changing and evolving. Broken down into five parts–Asia's critical role in globalization; the coming rebalancing of the Chinese economy; a new pan-regional framework for integration and competition; and a frank discussion of the biggest risk to this remarkable transformation–this book will help readers understand and profit from the world's most dynamic region.
Acknowledgments.
Introduction.
CHAPTER 1 A WORLD IN CRISIS.
A Subprime Outlook for the Global Economy.
Save the Day.
Coping with a Different Recession.
Davos Diary: 2008.
Double Bubble Trouble.
Even When the Worst Is Over—Watch Out for Aftershocks.
Pitfalls in a Postbubble World.
Panic of 2008: Enough Scapegoating.
Global Fix for a Global Crisis.
Changing the Fed's Policy Mandate.
An Early Leadership Opportunity for Barack Obama.
Dying of Consumption.
Uncomfortable Truths about Our World after the Bubble.
A Postbubble Global Business Cycle.
America's Japan Syndrome.
Whither Capitalism?
After the Era of Excess.
Same Old, Same Old.
Depression Foil.
CHAPTER 2 THE GLOBALIZATION DEBATE.
Open Macro.
The Battleground of Globalization.
The Global Delta.
Beggars Can't Be Choosers.
Perils of a Different Globalization.
Bad Advice and a New Global Architecture.
Doha Doesn't Matter.
Global Speed Trap.
Hitting a BRIC Wall?
Global Comeback—First Japan, Now Germany.
Labor versus Capital.
Global Lessons.
From Globalization to Localization.
Unprepared for Globalization.
The Currency Foil.
The Shifting Mix of Global Saving.
CHAPTER 3 CHINESE REBALANCING.
China's Rebalancing Challenge.
A Commodity-Lite China.
Scale and the Chinese Policy Challenge.
China's Great Contradiction.
Soft Landing Made in China?
The Great Chinese Profits Debate.
China Goes for Quality.
Heavy Lifting.
Two Birds with One Stone.
Unstable, Unbalanced, Uncoordinated, and Unsustainable.
China's Global Challenge.
Consumer-Led Growth for China.
China's Macro Imperatives.
Manchurian Paradox.
CHAPTER 4 PAN-ASIAN CHALLENGES.
The Next Asia.
Rebalancing Made in Japan?
From Beijing to Dubai.
A Tale of Two Asias.
Kim's Boost to Globalization.
Japan's Missing Link.
India on the Move.
The Cranes of Dubai.
Asian Decoupling Unlikely.
The Korea Test.
Asia's Policy Trap.
Complacency Asian Style.
The End of the Beginning.
Another Asian Wake-Up Call.
India's Virtuous Cycle.
Risks of an Asian Relapse.
CHAPTER 5 U.S.-CHINA TENSIONS.
A Slippery Slope.
Past the Point of No Return.
Debating U.S.-China Trade Policy.
Who's Subsidizing Whom?
Protectionist Threats—Then and Now.
The Ghost of Reed Smoot.
China's Pace, America's Angst.
The Politics of Trade Frictions.
A Wake-Up Call for the United States and China:.
Stress Testing a Symbiotic Relationship.
Afterword.
Sources.
About the Author.
Index.
"As Chairman of Morgan Stanley Asia and a renowned economist, Stephen Roach has a solid macroeconomics background, in-depth understanding of the region, rich knowledge of various industries, and an open mind. In this book, Steve vividly describes the changes of Asia -- and the driving forces behind those changes。Furthermore, he brilliantly points out the challenges Asia is facing, as well as its impacts on the global economy. Asia is reshaping the global economy in this post-crisis world, and I believe this book provides us with unique insights as to how this reshaping is playing out."
—
Dr. Zhu Min
, Group Executive Vice President, Bank of China
"Stephen Roach has for many years been a uniquely independent voice among international economic commentators. He was one of the few who warned that the debt-fuelled 'casino' economy was unsustainable. His prophetic warnings came to pass in 2008. In his latest book he issues another warning. Asia's explosive growth has been based on a 'bet' upon deep integration with the global economy. Stephen Roach argues that this growth is unsustainable in the face of the global recession. The region needs comprehensively to re-balance its economic model if it is to maintain its remarkable growth. He warns that this will not be easy. Stephen Roach's book is essential reading for those who hold the comfortable belief that Asia has 'de-coupled' from the world economy."
—Prof Peter Nolan, CBE, Sinyi Professor, Judge Business School, and Chair, Development Studies, University of Cambridge, UK