Stereotyping and Social Reality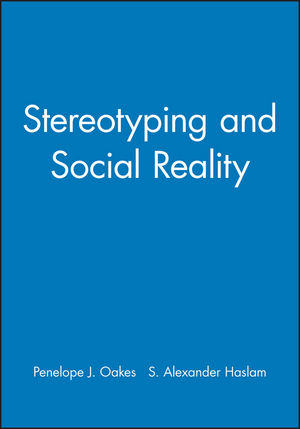 Stereotyping and Social Reality
ISBN: 978-0-631-18872-8 January 1994 Wiley-Blackwell 272 Pages
Download Product Flyer
Download Product Flyer
Download Product Flyer is to download PDF in new tab. This is a dummy description. Download Product Flyer is to download PDF in new tab. This is a dummy description. Download Product Flyer is to download PDF in new tab. This is a dummy description. Download Product Flyer is to download PDF in new tab. This is a dummy description.
Description
Stereotyping and Social Reality provides new treatment of one of the central issues in social psychology, and combines a comprehensive review of the field with new theoretical analysis. As such, the book will be of interest to a broad audience of students and researchers.
Table of contents
Authors.
Preface and Acknowledgements.
Prologue.
1. Introduction: The Social Psychology of Stereotyping.
2. Early Approaches to Stereotypes and Prejudice.
3. Stereotyping as Information Processing Error: The Cognitive Emphasis.
4. Cognition and the Group: Social Identity and Self-Categorization.
5. Categorization, Selective Perception and Stereotyping: A Critical Re-Examination.
6. The Social Contextual Basis of Stereotypic Accentuation.
7. Outgroup Homogeneity and Illusory Correlation Revisited.
8. Politics, Prejudice and Myth in the Study of Stereotypes.
References.
Reviews
"I was very impressed with this book and greatly profited from reading it. It represents both a scholarly and comprehensive review of social psychological theories and research on stereotyping and a presentation of the authors' own theoretical approach and extensive research programme. Their analysis of stereotyping in terms of self-categorization theory provides a powerful and convincing alternative (as well as much needed antidote) to the prevailing cognitive perspective. This important book will be essential reading for all students and researchers interested in stereotyping."
Professor Wolfgang Stroebe, Utrecht University
"This is an important, controversial and scholarly book... In addition to being exceptionally well written, Stereotyping and Social Reality provides a relatively exhaustive review of the stereotyping literature and should be on the MUST READ LIST of people interested in intergroup relations." Professor Samuel L. Gaertner, University of Delaware
"Essential reading."
"Ambitious it is but somehow the book does indeed succeed." Psychology
" Stereotyping and Social Reality is essential reading, written in an extremely accessible, inspirational, and persuasive style." Perception
"It should also be required reading for all researchers involved in stereotype research and related areas... Oakes, Haslam and Turner give us an important critique of past stereotype research, a provocative challenge to current conceptualizations, and a source of ideas that will stimulate future work - precisely waht a good academic text should do." Contemporary Psychology
"... what is most valuable about this volume is the detailed presentation of a comprehensive set of findings, from one of the most scientifically productive behaviour genetic adoption project currently in existence... it represents a potentially important direction for future integrative research on genetic and environmental influences." Contemporary Psychology
Features
* Provides an overview of a core part of social psychology.
* Introduces a new and challenging theoretical perspective.
* Includes a detailed bibliography and suggestions for further reading at the end of each chapter.