Steroid Enzymes and Cancer, Volume 1155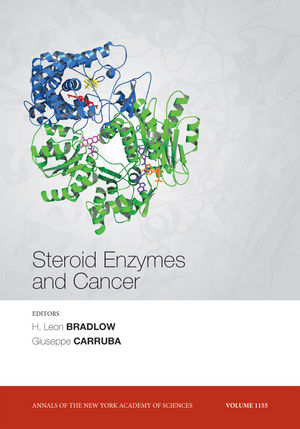 Steroid Enzymes and Cancer, Volume 1155
ISBN: 978-1-573-31745-0 March 2009 Wiley-Blackwell 352 Pages
Description
The expression and activity of key enzymes of sex steroid metabolism have major implications in both development and progression of various human hormone-related tumors, including breast, prostate, lung, and liver cancer.
This volume explores the role of local synthesis of steroid hormones, a process that has assumed an increasing importance in our understanding about several malignancies originating from steroid target tissues, wherein abnormal levels of individual steroids may promote tumor growth. In this framework, a divergent expression and/or activity of key gonadal steroid enzymes (including dehydrogenases, hydroxylases, sulfotransferases, sulfatases, and aromatase) may eventually lead to a differential accumulation of hormone derivatives with divergent biological activities in individual target tissues. This is of crucial importance in predicting the overall biological impact that sex steroids have on peripheral target tissues and, hence, on their potential role in cancer development and/or progression.
The volume focuses on five key enzymes in the metabolism of sex steroids: (1) 17βhydroxysteroid dehydrogenase; (2) 5αreductase; (3) hydroxylases and catechol-oxy methyltransferase; (4) sulfatase, sulfotransferases, and glucuronidase; and (5) aromatase.
The organization of the volume is designed to provide an updated picture of the existing knowledge about the association between steroid enzyme expression/function and the development and/or progression of major human cancers, including classical (breast, prostate) and nonclassical (lung, liver) hormone-related tumors. The resulting inferences for diagnosis, prognosis, and treatment are also presented, along with the experimental basis for developing preventive measures.
NOTE: Annals volumes are available for sale as individual books or as a journal. For information on institutional journal subscriptions, please visit www.blackwellpublishing.com/nyas.
ACADEMY MEMBERS: Please contact the New York Academy of Sciences directly to place your order (www.nyas.org). Members of the New York Academy of Science receive full-text access to the Annals online and discounts on print volumes. Please visit http://www.nyas.org/MemberCenter/Join.aspx for more information about becoming a member.
Table of contents
Preface: H. Leon Bradlow and Giuseppe Carruba
1. Translational Research in Hormone Related Cancer: Luisa M. Massimo and Giampaolo Tonini
2. Keynote Lecture: Organization, Integration and Assembly of Genetic and Epigenetic Regulatory Machinery in Nuclear Microenvironments: Implications for Biological Control in Cancer: Gary S. Stein, Sayyed K. Zaidi, Janet L. Stein, Jane B. Lian, Andre van Wijnen, Martin Montecino, Daniel W. Young, Amjad Javed, Jitesh Pratap, Je-Yong Choi, Syed A. Ali, Sandhya Pande, and Mohammad Q. Hassan
Part I: Hydroxysteroid Dehydrogenases:
3. Perspectives in understanding the role of human 17beta-hydroxysteroid dehydrogenases in health and disease: Marc Meier, Gabriele Möller, and Jerzy Adamski
4. 17beta-hydroxysteroid dehydrogenases in human breast cancer: Shuji Nagasaki, Yasuhiro Miki, Jun-ichi Akahira, Takashi Suzuki, and Hironobu Sasano
5. Steroid Hormone Transforming Aldo-Keto Reductases and Cancer: Trevor M. Penning, and Michael C. Byrns
6. 5α-Reductase Isozymes and Androgen Actions in The Prostate: Yuan-Shan Zhu and Julianne L. Imperato-McGinley
Part II: Hydroxylases:
7. Estrogen Hydroxylation-The Good and the Bad: Daniel W. Sepkovic and H. Leon Bradlow
8. Estrogen Metabolism and Breast Cancer: A Risk Model: Fritz F. Parl, Sheila Dawling, Nady Roodi, and Philip S. Crooke
Part III: Sulfatase, Sulfotransferase, and Glucuronidase:
9. New Developments in intracrinology of human breast cancer - estrogen sulfatase and sulfotransferase: Hironobu Sasano, Shuji Nagasaki, Yasuhiro Miki, and Takashi Suzuki
10. The development of steroid sulfatase inhibitors for hormone-dependent cancer therapy: Joanna M. Day, Atul Purohit, Helena J. Tutill, Paul A.
Foster, L.W. Lawrence Woo, Barry V.L. Potter, and Michael J. Reed
11. Estrogen Sulfotransferases in Breast and Endometrial Cancers: Jorge Pasqualini
12. Potential role of UGT pharmacogenetics in cancer treatment and prevention: focus on tamoxifen: Philip Lazarus, Andrea S. Blevins-Primeau, Yan Zheng, and Dongxiao Sun
Part IV: Aromatase I:
13. Molecular characterization of aromatase: Yanyan Hong, Hongzhi Li, Yate-Ching Yuan, and Shiuan Chen
14. Regulation of Aromatase Expression in Breast Cancer Tissue: Serdar E Bulun, Zhihong Lin, Hong Zhao, Meiling Lu, Sanober Amin, Scott Reierstad, and Dong Chen
15. Estrogen mediation of breast tumor formation involves estrogen receptor dependent, as well as independent, genotoxic effects: Richard Santen, Ercole Cavalieri, Eleanor Rogan, Jose Russo, Joseph Guttenplan, James Ingle, and Wei Yue
16. Phase 3 trials of aromatase inhibitors for breast cancer prevention: Following in the path of the selective estrogen receptor modulators: Barbara K. Dunn and Anne Ryan
Part V: Aromatase II:
17. Aromatase inhibitors and breast cancer: Luciana Furtado Macedo, Gauri Sabnis, and Angela Brodie
18. The Dual, Opposing Roles of Estrogen in the Prostate: Stuart Ellem and Gail Risbridger
19. Aromatase in human liver: Giuseppe Carruba
20. Targeting aromatase and estrogen signaling in human non-small cell lung Cancer: Diana C. Márquez-Garbán, Hsiao-Wang Chen, Lee Goodglick, Michael C. Fishbein, and Richard J. Pietras
21. Keynote Lecture: Inflammation and liver cancer: new molecular links: C. Berasain, J. Castillo, M.J. Perugorria, M.U. Latasa, J. Prieto, and M. A. Avila
Part VI: Poster Papers:
22. Application of a new breast cancer classification to a population-based series: demographic, clinical, and prognostic features of incident cases, Palermo Province, 2002-2004: Maurizio Zarcone, Rosalba Amodio, Ildegarda Campisi, Rosanna Cusimano, Cecilia Dolcemascolo, Vitale Miceli, Adele Traina, and Maurizio Macaluso
23. Endocrine therapy in metastatic breast cancer: data from Breast Cancer Registry of Palermo (1999-2005): Rosalba Amodio, Maurizio Zarcone, Biagio Agostara, Maria Stella Adamo, Orazia Maria Granata, Giuseppe Carruba, and Adele Traina
24. Dietary enterolactone affects androgen and estrogen levels in healthy postmenopausal women: Orazia M. Granata, Adele Traina, Stefania Ramirez, Ildegarda Campisi, Maurizio Zarcone, Rosalba Amodio, Lucia M. Polito and Giuseppe Carruba
25. 16α-Hydroxyestrone inhibits Estrogen sulfotransferase activity in human liver cancer cells: Ildegarda Campisi, Orazia M. Granata, Letizia Cocciadiferro, Maurizio Calabrò, Lucia M. Polito, and Giuseppe Carruba
26. Clues to Understanding the Oxidation of Estradiol in Humans: Effects of Acute Infectious Hepatitis, Autoimmune Hepatitis and Chronic Liver Disease: Robert Lahita, Robert A. Schaefer, H. Leon Bradlow, and Mary-Jeanne Kreek
27. Aromatase and amphiregulin are correspondingly expressed in human liver cancer cells: Vitale Miceli, Melchiorre Cervello, Antonina Azzolina, Giuseppe Montalto, Maurizio Calabrò, and Giuseppe Carruba
28. Profiling Cancer Stem Cells in Androgen Responsive and Refractory Human Prostate Tumor Cell Lines: Letizia Cocciadiferro, Vitale Miceli, Kyung-Sun Kang, Lucia M. Polito, James E. Trosko, and Giuseppe Carruba
29. Sex steroids upregulate the IGF-IR in prostate cancer cells through a nongenotropic pathway: Giuseppe Pandini, Marco Genua, Francesco Frasca, Riccardo Vigneri, and Antonino Belfiore
30. Low levels of both xanthine dehydrogenase and cellular retinol binding protein are responsible for the retinoic acid deficiency in malignant human mammary epithelial cells: Gennaro Taibi, Giuseppe Carruba, Letizia Cocciadiferro, Grazia M. Granata, and Concetta M.A. Nicotra
31. Inhibition of human breast cancer cell growth and enzymatic activity by a fermented nutraceutical: an in vitro and in vivo study: F. Marotta, H.Yadav, S. Pathak, E. Minelli, P. Signorelli, A. Lorenzetti, and P. Marandola
32. Curcumin as a possible lead compound against hormone-indipendent multidrug resistant breast cancer: Manuela Labbozzetta, Monica Notarbartolo, Paola Poma, Annamaria Maurici, Luigi Inguglia, Paolo Marchetti, Michele Rizzi, Riccardo Baruchello, Daniele Simoni, and Natale D'Alessandro
33. Genetic determined down regulation of both type 1 and type 2 cytokine pathways might be protective against pancreatic cancer: Letizia Scola, Antonio Giacalone, Lorenzo Marasà, Monica Mirabile, Loredana Vaccarino, Giusi Irma Forte, Lydia Giannitrapani, Calogero Caruso, Giuseppe Montalto, and Domenico Lio
34. CCR5 proinflammatory allele in Prostate cancer risk: a pilot study in patients and centenarians from Sicily: Carmela Rita Balistreri, Giuseppe Carruba, Maurizio Calabro', Ildegarda Campisi, Daniele Di Carlo, Domenico Lio, Giuseppina Colonna-Romano, Giuseppina Candore, and Calogero Caruso
35. Cyclooxygenase-2 expression in chronic liver diseases and hepatocellular carcinoma: an immunohistochemical study: Lydia Giannitrapani, Sabrina Ingrao, Maurizio Soresi, Ada Maria Florena, Emanuele La Spada, Luigi Sandonato, Natale D'alessandro, Melchiorre Cervello, and Giuseppe Montalto
36. Prostaglandin E2 receptors and COX enzymes in human hepatocellular carcinoma: role in the regulation of cell growth: Antonella Cusimano, Daniela Foderà, Nadia Lampiasi, Antonina Azzolina, Monica Notarbartolo, Lydia Giannitrapani, Natale D'alessandro, Giuseppe Montalto, and Melchiorre Cervello
37. Involvement of nitric oxide in nigrostriatal dopaminergic system
degeneration: a neurochemical study: Vincenzo Di Matteo, Massimo Pierucci, Arcangelo Benigno, Giuseppe Crescimanno, Ennio Esposito, and Giuseppe Di Giovanni
38. Unilateral nigral lesion induces dramatic bilateral modification on rat brain monoamine neurochemistry: Massimo Pierucci, Vincenzo Di Matteo, Arcangelo Benigno, Giuseppe Crescimanno, Ennio Esposito, and Giuseppe Di Giovanni
39. Parkinson disease and cancer: Insights for pathogenesis from epidemiology: Marco D'Amelio, Paolo Ragonese, Gabriella Sconzo, Paolo Aridon, and Giovanni Savettieri
Index of Contributors
Reviews
?The articles are written by authorities in their respective research areas, and they provide good coverage of steroid enzymes in cancer. Most of the authors represent research groups that are acknowledged leaders in their fields.? (Doody?s , November 2009)