Stevens' Handbook of Experimental Psychology, Volume 1, Perception and Motivation, 2nd Edition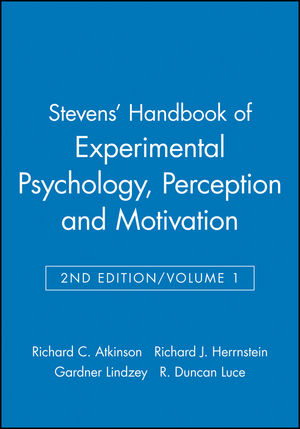 Stevens' Handbook of Experimental Psychology, Volume 1, Perception and Motivation, 2nd Edition
ISBN: 978-0-471-04203-7
Jun 1988
928 pages
Product not available for purchase
Description
This is a new edition of the established reference and graduate text on experimental psychology. Widely used for over 25 years, this edition has been completely updated and expanded into two volumes; contributors to these works are among the most highly renowned professionals in the field. Volume 1 includes coverage of the physics and retinal physiology of vision; the nature of auditory perception, speech, and emotional patterns; and the latest theories and findings in the area of behavioral genetics. Volume 2 includes studies exploring such topics as the psychobiology of learning and memory; the influences of choice and reinforcement in human behavior; psycholinguistics; individual variations in cognitive functioning, and much more.
PERCEPTION.

Measurement, Scaling, and Psychophysics (R. Luce & C. Krumhans).

Vision: Physics and Retinal Physiology (E. Pugh).

Vision: Space and Movement (G. Westheimer).

Visual Perception (J. Hochberg).

Physics and Physiology of Hearing (N. Kiang & W. Peake).

Audition: Psychophysics and Perception (D. Green).

Auditory Perception and Speech (I. Hirsh).

Olfaction (W. Cain).

Taste (L. Bartoshuk).

MOTIVATION.

The Adaptive-evolutionary Point of View in Experimental Psychology (P. Rozin & J. Schull).

Neuropsychology of Motivation: Peptides and Pathways that Define Motivational Systems (B. Hoebel).

Emotions (C. Izard & P. Saxton).

Behavioral Genetics (G. McClearn & T. Foch).

Ethology (G. Baerends).

Subject Index.

Author Index.