Sticky Wisdom : How to Start a Creative Revolution at Work, 2nd Edition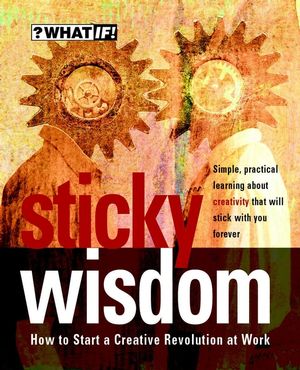 Sticky Wisdom : How to Start a Creative Revolution at Work, 2nd Edition
ISBN: 978-1-841-12021-8
May 2002, Capstone
210 pages
Description
We all know how important creativity is at work. New ideas, fresh solutions, and innovative approaches are always talked about, but rarely ever practiced.
?Whatif!, Second Edition gives you the power, insight, and courage to capture the essence of creativity at work. This one-of-a-kind book breaks creativity into six practical behaviors and shows you how all of us--not just the wacky genuis--is packed with creative potential.

This fully updated and expanded edition explores areas that the first edition did not, filled with new insights, stories, and cases it will help you find or recapture your creativity with proven exercises that will help unlock the creative potential in anyone.
Welcome to the Revolution

Freshness

Greenhousing

Realness

Momentum

Signalling

Courage
"...I found the book easy to read and understand, full of common sense and curiously compelling..." (City to Cities, August/September 2002)

"...it's one of those rare books that could make a radical difference to the way you work and see the world, whilst being a genuine source of pleasure to read..." (Research Magazine, September 2002)