Stiquito Controlled!: Making a Truly Autonomous Robot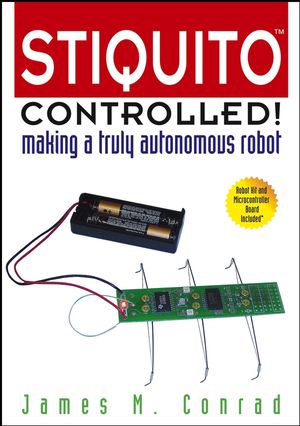 Stiquito Controlled!: Making a Truly Autonomous Robot
ISBN: 978-0-471-48882-8
Feb 2005, Wiley-IEEE Computer Society Pr
208 pages
Description
Build your own Stiquito "walking-stick" robot insect with the included kit!
Stiquito Controlled! is a widely accessible, user-friendly book that provides step-by-step instructions for building Stiquito, a small, multi-legged robot that resembles a "walking-stick" insect. The book includes comprehensive instructions and all the parts needed to complete assembly. Most notably, the kit contains a microcontroller board that allows Stiquito to walk on its own. Key features of the book include:
Complete kit to build Stiquito--no additional materials necessary (common tools and batteries required)
Detailed, step-by-step instructions for assembly of the robot
Comprehensive lessons on how to make Stiquito "walk" using the microcontroller
Engineering teachers and students, researchers, and science enthusiasts will find Stiquito Controlled! a fascinating and fun hands-on project.
Batteries not included.
http://www.coe.uncc.edu/~jmconrad/Stiquito_Controlled.htm
Forward.
Preface.
1. An Introduction to Robotics and Stiquito.
2. Introduction to Embedded Systems and the Stiquito Controller Board.
3. PCB Layout and Manufacturing.
4. Building Stiquito Controlled.
5. Stiquito Programming using Texas Instruments MSP430F1122.
6. A Two-Degree-of-Freeedom Stiquito Robot.
7. Optimizing the Stiquito Robot for Speed.
8. More Stiquitos Controlled.
Appendix: Sources of Materials for Stiquito.
Glossary.
Index.
About the Authors.
"…will challenge students and their teachers to move out of their computer comfort zone…an engaging and easily manageable kit…this is a worthwhile investment." (
NSTA Recommends
, October 6, 2005)
"The Stiquito kit and book can be inspiring learning aids for students serving to tweak their curiosity about robotics and introduce them to a hands-on experience." (IEEE Control Systems, April 2006)
"…an engaging and easily manageable kit…For future engineers, this is a worthwhile investment." (Journal of College Science Teaching, January/February 2006)