Stock Enhancement and Sea Ranching: Developments, Pitfalls and Opportunities, 2nd Edition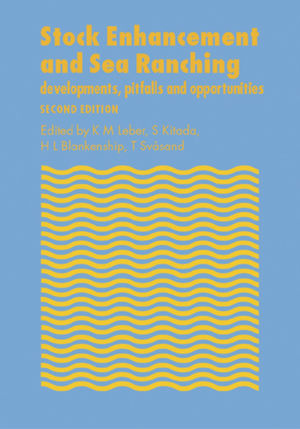 Stock Enhancement and Sea Ranching: Developments, Pitfalls and Opportunities, 2nd Edition
ISBN: 978-1-405-11119-5 August 2004 Wiley-Blackwell 580 Pages
Download Product Flyer
Download Product Flyer
Download Product Flyer is to download PDF in new tab. This is a dummy description. Download Product Flyer is to download PDF in new tab. This is a dummy description. Download Product Flyer is to download PDF in new tab. This is a dummy description. Download Product Flyer is to download PDF in new tab. This is a dummy description.
Description
The collapse of many of the World's fisheries continues to be of major concern and the enhancement of fish stocks through techniques such as ranching is of huge importance and interest across the globe. This important book, which contains fully peer reviewed and carefully edited papers from the 2nd International Symposium in Stock Enhancement and Sea Ranching is broadly divided into sections covering the following areas:


The present situation of stock enhancement

Seed quality and techniques for effective stocking

Health management of hatchery stocks

Methods for evaluating stocking effectiveness

Population management in stock enhancement and sea ranching

Management of stocked populations

Ecological interactions with wild stocks

Genetic management of hatchery and wild stocks

Socio-economics of stock enhancement

Case studies
Stock Enhancement and Sea Ranching has been written and edited by some of the world's foremost authorities in fisheries science and related areas and is essential reading for all fisheries scientists throughout the World. Fish biologists, marine and aquatic scientists, environmental biologists, ecologists, conservationists, aquaculture personnel and oceanographers will all find much of use and interest within this book. All libraries within universities and research establishments where these subjects are studied and taught should have copies of this book on their shelves.
Table of contents
Preface.
Section One: Present Situation of Stock Enhancement.
Chapter 1 Stock Enhancement and Sea Ranching as an integrated part of Coastal Zone Management in Norway - Erlend Moksness.
Chapter 2 Marine Stock Enhancement in the USA: Status, Trends and Needs - Kenneth M Leber.
Chapter 3 Global Warming, aquaculture, and commercial fisheries - Richard J Beamish and Donald J Noakes.
Chapter 4 Stock Enhancement and Sea Ranching in Developing Countries - Devin M Bartley, Abraham Born and Anton Immink.
Section Two: Seed Quality and Techniques for Effective Stocking.
Chapter 5 Why Juvenile Quality and Release Strategies are Important Factors for Success in Stock Enhancement and Sea Ranching - Terje Svåsand.
Chapter 6 Feats and Defeats in Flatfish Stocking: Determinants for Effective Stocking - Josianne G Støttrup.
Chapter 7 Behavioural Approaches to Fish Stock Enhancement: A practical Review - Reiji Masuda.
Chapter 8 Lessons in Marine Fish Enhancement: Experiences with Pacific Salmon - C V W Mahnken, W T Farigrieve, F W Waknitz, D J Maynard, and H L Blankenship.
Chapter 9 Releasing Technique in Stipped Jack Marine Ranching: Pre-release Acclimation and Presence of Decoys to Improve Recapture Rates - Hiroshi Kuwada, Reihi Masuda, Takashi Kobayashi, Takayuki Kogane, Taeko Miyazaki, Keinosuke Imaizumi and Katsumi Tsukamoto.
Section Three: Health Management of Hatchery Stocks.
Chapter 10 Fish Health Management in Seed Production - Keiichi Mushiake and Kiyokuni Muroga.
.
Section Four: Methods for Evaluating Stocking Effectiveness.
Chapter 11 An Independent Scientific Evaluation of Washington State Salmonid Hatcheries - H Lee Blankenship and Michael A Kern.
Chapter 12 Experimental Ecological Tests with Stocked Marine Fish - John M Miller and Carl J Walters.
Chapter 13 Examining Genetic Effect Hypothoses of Hatchery Fish on Wild Populations - Shuichi Kitada and Hirohisa Kishino.
Chapter 14 Behaviour of Ongrown Juvenile Spiny Lobsters, Jasus edwardsii After Reseeding to a Coastal Reef in Tasmania, Australia - David J Mills, Caleb Gardner and Sam Ibbott.
Chapter 15 Juvenile Release and Market Size Recapture of the Swimming crab Portunus trituberculatus (Miers) Marked with Coded Wire Tags - Kazutoshi Okamoto.
Chapter 16 Evaluation of Stock Enhancement Programs for Masu Salmon in Hokkaido, Northern Japan, by Two-stage Sampling Surveys of Commercial Landings - Yasuyuki Miyakoshi, Mitsuhiro Nagata, Kei-ichi Sugiwaka and Shuichi Kitada.
Section Five: Population Management in Stock Enhancement and Sea Ranching.
Chapter 17 Population Management in Stock Enhancement and Sea Ranching -Ray Hilborn.
Section Six: Management of Stocked Populations.
Chapter 18 Management of Restocking and Stock Enhancement Programs: The Need for Different Approaches - Johann Bell.
Chapter 19 Regional Non-Profit Corporations – An Institutional Model for Stock Enhancement - William W Smoker.
Chapter 20 Management Options for Restocked Trochus Fisheries - Steven W Purcell .
.
Section Seven: Ecological Interactions with Wild Stocks.
Chapter 21 Evaluation of the Biological Interaction between Wild and Hatchery Population for Sustainable Fisheries Management of Pacific Salmon - Masahide Kaeriyama and Rizalita R Edpalina.
Chapter 22 Risk/Benefit Considerations for Marine Stock Enhancement: A Pacific Salmon Perspective - Robin S Waples and Jonathan Drake .
Chapter 23 Effects of Hatchery Releases and Environmental Variation on Wild-stock Productivity: Consequences for Sea Ranching of Pink Salmon in Prince William Sound, Alaska - Alex C Wertheimer, William R Heard and William W Smoker.
Section Eight: Genetic Management of Hatchery and Wild Stocks.
Chapter 24 Broodstock Management for Stock Enhancement Programs of Marine Fish with Assistance of DNA Marker (a Review) - Nobuhiko Taniguchi.
Chapter 25 Genetic Studies in Marine Stock Enhancement in Norway - Knut E Jørstad.
Chapter 26 Stock Structure and Effective Size of Red Drum (Sciaenops Ocellatus) in the Northern Gulf of Mexico and Implications Relative to Stock Enhancement and Recruitment - John R Gold.
Chapter 27 Natural Selection After Release from a Hatchery Leads to Domestication in Steelhead, Oncorhynchus mykiss - Reg Reisenbichler, Steve Rubin, Lisa Wetzel and Steve Phelps.
Section Nine: Socio-economics of Stock Enhancement.
Chapter 28 Averting Food Crisis in the 21st Century: The Role of Stock Enhancement and Sea Ranching - I Chiu Liao .
Chapter 29 The Role of Stock Enhancement in the Management Framework for New Zealand's Southern Scallop Fishery - Kim Drummond.
Section Ten: Case Studies.
Chapter 30 Enhancing the European Lobster (Homarus gammarus) Stock at Kvitsøy Islands: Perspectives of Rebuilding Norwegian Stocks - A L Agnalt, K E Jørstad, T Kristiansen, E Nøstvold, E Farestveit, H Næss, O I Paulsen and T Svåsand.
Chapter 31 The Decline of Global Abalone (Geneus Haliotis) Production in the Late Twentieth Century: Is There a Future? - Jeremy D Prince.
Chapter 32 An Approach to Evaluating the Potential for Stock Enhancement of Brown Tiger Prawns (Penaeus Esculentus Haswell) in Exmouth Gulf, Western Australia - Neil R Loneeragan, Peter J Crocos, Roger Barnard, Richard Mcculloch, James W Penn, Robert D Ward and Peter C Rothlisberg.
Chapter 33 Stock Enhancement of the Short-spined Sea Urchin Strongylocentrotus intermedius in Hokkaido, Japan - Yuichi Sakai, Ken-Ichiro Tajima and Yukio Agatsuma.
Chapter 34 Enhancement of Pacific Threadfin (Polydactylus Sexfilis) in Hawaii: Interactions between Aquaculture and Fisheries - David A Ziemann.
Chapter 35 Stock Enhancement of Barramundi, Lates calcarifer (Bloch) in a Coastal River System in Northern Australia: Stocking Strategies, Survival and Cost-benefits - D J Russell, M A Rimmer, A J McDougall, S E Kistle and W L Johnston.
Chapter 36 Stocking Effectiveness of Black Rockfish Sebastes schlegeli Released in Yamada Bay Evaluated by a Fish Market Census - Masahiro Nakagawa, Hiroyuki Okouchi and Junichi Adachi .
Section Eleven: Posters.
Chapter 37 A Behavioural Character During the Metamorphosing Stage Can Predict the Growth Performance of Juvenile Stage in Japanese Flounder - Yoshitaka Sakakura, Katsumi Tsukamoto and Atsushi Hagiwara.
Chapter 38 Recapture Rates of Released Hatchlings of Giant Cuttlefish Sepia Latimantus Quoy and Gaimard - Masakazu Oka, Takashi Yamashita, Shin-Ichi Osumi and Katsuyuki Hamasaki.
Chapter 39 Development of a Nursery Reef for Released Juvenile Redspotted Grouper, Epinephelus akaara - Shigenobu Okumura, Seiichi Tsumura and Keigo Maruyama.
Chapter 40 Release Strategies in Scallop (Pecten maximus) Sea Ranching Vulnerable to Crab Predation - O Strand, E S Grefsrud, G A Haugum, G Bakke, E Helland, T Helland
Reviews
"A very important book about a very important subject. Sea ranching, quite clearly, represents a large part of the future of the global seafood industry.
This all-encompassing book, which comprises forty well considered papers looks at many of those problems and offers numerous solutions to them."
Professional Fisherman
"This book brings an enormous amount of information on past experiences and ongoing studies into one easy-to-read source. .[it] is an excellent compendium of often hard-to-find published examples…Stock Enhancement and Sea Ranching is a well-prepared and timely book...an excellent survey of activities and issues…will be very valuable as a reference source for anyone interested in stock enhancement and sea ranching."
Fish and Fisheries, 2005
"...the book does provide a broad and up to date overview of the state of marine stock enhancement research. Those directly involved in the field will want it on the shelves, and subject libraries should have it available for reference."
Journal of Fish Biology, December 2005

"This book is an excellent overview of the current state of artificial supplementation of marine fisheries and outlines current debates for responsible use of this technology."
Reviews in Fish Biology and Fisheries, 2005

"This authoritative volume, which contains 40 fully peer-reviewed papers presented at the Second International Symposium on Stock Enhancement and Sea Ranching, held in Japan, is essential reading for anyone interested in 'the state of the art' of stock enhancement and sea ranching."
African Journal of Aquatic Science, 2005
Features
* Evolved from a second symposium, this edited volume takes a global look at fisheries stock enhancement and sea ranching
* A useful reference made up of 40 peer-reviewed chapters with contributions from nearly 80 international fisheries experts
* Discusses everything from the present situation and techniques for effective stocking to health and population management through to ecological and genetic interactions with wild stocks
* Includes 10 case studies from around the world