Stop the Retirement Rip-off: How to Avoid Hidden Fees and Keep More of Your Money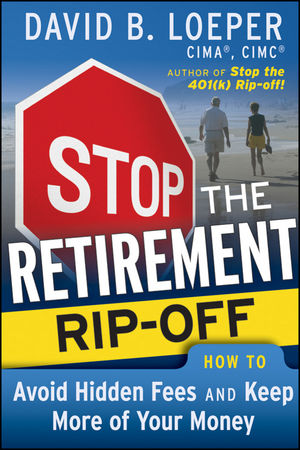 Stop the Retirement Rip-off: How to Avoid Hidden Fees and Keep More of Your Money
ISBN: 978-0-470-48030-4
Mar 2009
208 pages
Description
Saving for retirement is a difficult task, especially during these challenging economic times. Individuals who participate in their retirement plans are being charged billions in fees annually—and no one is looking out for their best interests—even though the laws say both plan sponsors and employers should be held responsible for acting in their employees' best interests. The fact is that unless individuals are willing to stand-up and secure their financial future, they're likely to face less money in their retirement plan accounts and have to work longer to accumulate the funds they need for retirement. In Stop the Retirement Rip-off, author David Loeper provides the necessary tools for readers to take action and make the most of their retirement plans. It offers a road map for employees to understand the fees and costs associated with their plans; as well as improve their standing within their company by proactively helping their employer to take needed action. The book features a non confrontational positive approach to bringing your retirement plan problems to the attention of your employer. Written in a straightforward and accessible style, Stop the Retirement Rip-off provides readers with sensible strategies for making the most of their retirement funds, and will put them back in control of their financial future.
Preface.
Acknowledgments.
Introduction The Five Steps YOU Can Take.
Chapter 1 Step One: Understanding the REAL and HIDDEN Expenses You Pay.
Chapter 2 Deeply Hidden Expenses.
Chapter 3 The Price to Your Lifestyle of Needless Expenses.
Chapter 4 Step Two: Complaining without Sounding Like a Complainer.
Chapter 5 Step Three: Rallying Your Troops—Just One Coworker Can Help.
Chapter 6 Step Four: What Happens If My Employer Ignores Us?
Chapter 7 Step Five: Now That My Retirement Plan Is Fixed, How Can I Make the Most of My Life?
Chapter 8 Resources, Investment Selection, Asset Allocation, Tools, and Advice.
Appendix A Lifestyle Prices of Excessive Retirement Plan Expenses.
Appendix B Sample 401(k) Participant Statement.
Appendix C Sample Summary Annual Reports.
Appendix D Sample Annual Form 5500 Reports.
About the Author.
Index.