Storage Network Performance Analysis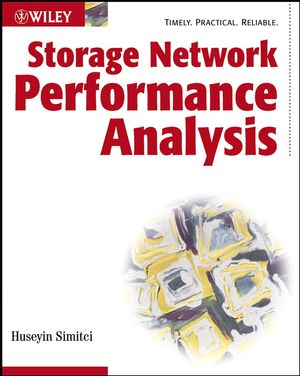 Storage Network Performance Analysis
ISBN: 978-0-764-51685-6
May 2003
432 pages
Description
Features vendor-neutral coverage applicable to any storage network
Includes a special case-study section citing real-world applications and examples
The first vendor-neutral volume to cover storage network performance tuning and optimization
Exacting performance monitoring and analysis maximizes the efficiency and cost-effectiveness of existing storage networks
Meets the needs of network administrators, storage engineers, and IT professionals faced with shrinking budgets and growing data storage demands
Preface.
Acknowledgments.
Part I: Performance Analysis Techniques.
Chapter 1: Introduction to Storage Networking Performance.
Chapter 2: Data Analysis Review.
Chapter 3: Analytic Modeling.
Chapter 4: Simulation Modeling.
Chapter 5: Experimental Analysis.
Part II: Performance Analysis and Modeling of Storage System Components.
Chapter 6: Modeling Storage Devices.
Chapter 7: Modeling Storage Interconnects.
Chapter 8: Modeling Storage Networks.
Chapter 9: Modeling Storage Workloads.
Part III: Storage Performance Engineering.
Chapter 10: Storage Quality of Service.
Chapter 11: Storage Capacity Planning.
Part IV: Storage Performance Tools.
Chapter 12: Storage Benchmarks.
Chapter 13: Performance Management and Monitoring Tools.
Part V: Storage Performance Tuning.
Chapter 14: Host System Tuning.
Chapter 15: Application Tuning.
Chapter 16: Storage Subsystem Tuning.
Chapter 17: Storage Network Tuning.
Part VI: Case Studies.
Chapter 18: Simulating Network Attached Storag e Performance.
Chapter 19: Modeling Remote Storage Replication Performance.
Chapter 20: Web and E-Commerce Data Center Performance Analysis.
Appendix: Glossary of Terms and Acronyms.
Index.