Storage Security: Protecting SANs, NAS and DAS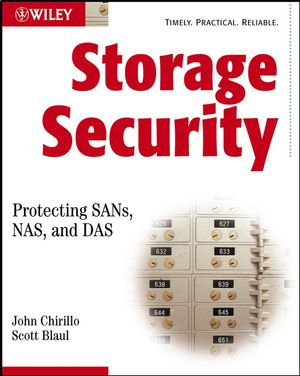 Storage Security: Protecting SANs, NAS and DAS
ISBN: 978-0-764-51688-7
Jan 2003
408 pages
Product not available for purchase
Description
* Storage systems are back-up data centers for vital information and a reliable second line of defense in the event a network is brought down
* Security experts Chirillo and Blaul navigate the challenges of secure storage networks in this invaluable how-to book
* Presents a standard set of secure policies and applications
* Analyzes the strengths and weaknesses of SAN, NAS, and DAS systems, detailing security concerns and considerations
* Discusses how to implement and architect more secure storage systems, focusing on breaches, redundancy, and security strategies
* Takes into consideration protection against internal intruders and tests those plans via vulnerability and penetration testing
Preface.
Chapter 1: Storage Evolution.
Chapter 2: Direct Attached Storage (DAS).
Chapter 3: Network Attached Storage (NAS).
Chapter 4: Storage Area Network (SAN).
Chapter 5: Data Availability.
Chapter 6: Data Protection, Backup, and Recovery.
Chapter 7: Selecting a Secure Storage Solution.
Chapter 8: Designing and Implementing a Sound Data (NAS/SAN) Security Program.
Chapter 9: Testing and Monitoring.
Appendix A: What's on the Web Site.
Appendix B: Useful Resources.
Index.