Storytelling and Other Activities for Children in Therapy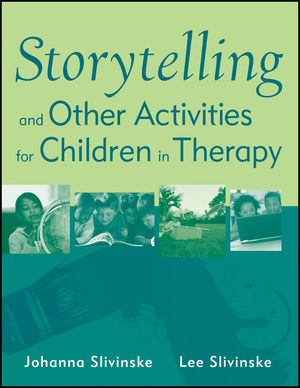 Storytelling and Other Activities for Children in Therapy
ISBN: 978-1-118-01530-8
Mar 2011
360 pages
Description
A comprehensive collection of hundreds of thought-provoking stories and activities for use in the treatment of children confronting difficult situations
Storytelling and Other Activities for Children in Therapy provides professionals with the knowledge, insight, and tools to help children (ages 6 to 12) and their families work through their treatment issues using storytelling and other activities. This invaluable guide includes helpful activity sheets that gradually progress through four levels of inquiry, representing readiness for self-disclosure.
Imaginative and easy-to-use, the stories and activities in this book are tied to relevant practice issues, including:
Illness and disability

School issues

Anger and behavioral issues

Social adjustment and shyness

Divorce and parental separation

Domestic violence

Community violence

Trauma and child abuse

Substance abuse

Death
With an accompanying website allowing therapists to personalize and print stories as well as activity sheets to meet their needs and those of their clients, Storytelling and Other Activities for Children in Therapy is an important tool in easing the pain of emotionally hurt children towards a discovery of their inner strengths and resilience for life. These resources can be accessed at www.wiley.com/go/slivinske.
Preface.
Acknowledgements.
Foreword.
Chapter 1 How to Use This Book.
Chapter 2 Principles and Processes of Therapeutic Storytelling.
Chapter 3 The Strengths Approach to Storytelling with Children.
Chapter 4 Developmental Issues of Children.
Chapter 5 Illness and Disability.
Chapter 6 School Issues.
Chapter 7 Anger and Behavioral Issues.
Chapter 8 Social Adjustment and Shyness.
Chapter 9 Divorce and Parental Separation.
Chapter 10 Domestic Violence.
Chapter 11 Community Violence.
Chapter 12 Trauma and Child Abuse.
Chapter 13 Substance Abuse.
Chapter 14 Cultural and Religious Issues.
Chapter 15 Fun, Happiness and Strengths.
Chapter 16 Accidents and Injuries.
Chapter 17 Job Loss and Poverty.
Chapter 18 Military Issues and International Violence.
Chapter 19 Death.
Chapter 20 General Activity Sheets for All Practice Areas.
References.
Author Index.
Subject Index.
| | |
| --- | --- |
| Chapter 1 Images | Download |
| Chapter 2 Images | Download |
| Chapter 3 Images | Download |
| Chapter 4 Images | Download |
| Chapter 5 Images, Stories, and Activities | Download |
| Chapter 6 Images, Stories, and Activities | Download |
| Chapter 7 Images, Stories, and Activities | Download |
| Chapter 8 Images, Stories, and Activities | Download |
| Chapter 9 Images, Stories, and Activities | Download |
| Chapter 10 Images, Stories, and Activities | Download |
| Chapter 11 Images, Stories, and Activities | Download |
| Chapter 12 Images, Stories, and Activities | Download |
| Chapter 13 Images, Stories, and Activities | Download |
| Chapter 14 Images, Stories, and Activities | Download |
| Chapter 15 Images, Stories, and Activities | Download |
| Chapter 16 Images, Stories, and Activities | Download |
| Chapter 17 Images, Stories, and Activities | Download |
| Chapter 18 Images, Stories, and Activities | Download |
| Chapter 19 Images, Stories, and Activities | Download |
| Chapter 20 Images, Stories, and Activities | Download |