Straight Talk on Investing: What You Need to Know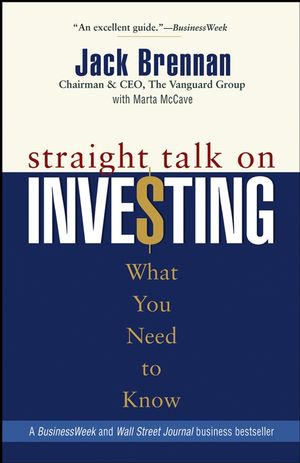 Straight Talk on Investing: What You Need to Know
ISBN: 978-0-471-47546-0
Feb 2004
254 pages
Description
Classic investment guidance for everyone
As Chairman and CEO of one of the most respected mutual fund companies in the world, The Vanguard Group, Jack Brennan has made a career out of helping people invest for long-term success. In Straight Talk on Investing, he cuts to the chase and provides readers with sound advice and solid guidance to investing for today and tomorrow, in a bull market or bear market. Starting with a clear explanation of the financial facts of life, Brennan explains that investing is a lot easier than most people think. He shows readers how to develop a financial plan, construct and manage a sensible investment program, and maintain perspective in a sometimes crazy world. Refreshing in its simplicity and honesty, Straight Talk on Investing is a badly needed tonic to the hangover of the bull market of the 1990s. Filled with meaningful guidance for investors from a leading investment luminary, this invaluable resource will help readers make better investment decisions and restore financial faith in themselves, so they can confidently navigate the markets toward their financial goals.
Jack Brennan (Wayne, PA) is the Chairman and CEO of The Vanguard Group, the world's second-largest mutual fund company, with $600 billion in assets under management and 15 million shareholder accounts. Mr. Brennan is a frequent guest on financial news programs and is regularly quoted in leading business and personal finance publications, including The Wall Street Journal and The New York Times. In 2000 and 2001, SmartMoney ranked him as one of the most influential individuals in investing.
Marta McCave (Wayne, PA) is a senior financial writer for The Vanguard Group and a former journalist. She was a founding member of the national reporting staff of USA Today and was a contributor to a number of newspapers and magazines before joining Vanguard.
Preface.
Acknowledgments.
PART 1: MASTER THE BASICS.
A look at the financial facts of life.
Chapter 1: Successful Investing Is Easier Than You Think.
Chapter 2: You've Gotta Have Trust.
Chapter 3: A Map to Success: Hmmm, Sounds Like a Plan.
Chapter 4: Save More—Without Feeling the Pinch.
Chapter 5: Hope for the Best—But Prepare for Something Less.
PART 2: CONSTRUCT A SENSIBLE PORTFOLIO.
Investing is like a marathon, so you'll want to suit up appropriately Here's how.
Chapter 6: Balance and Diversification Help You Sleep at Night.
Chapter 7: You Need a Personal Investment Policy Whether You Start with Zillions or Zip.
Chapter 8: Mutual Funds: The Easy Way to Diversify.
Chapter 9: How to Pick a Mutual Fund (And How Not To).
Chapter 10: It's What You Keep That Counts.
Chapter 11: Risk: Give It the Gut Test.
Chapter 12: Keep Things Simple.
PART 3: MANAGE YOUR INVESTMENTS WITH FOCUS AND DISCIPLINE.
Once you assemble a well-constructed portfolio, you don't have to spend every waking moment tending to it-in fact, you'll be better off if you don't.
Chapter 13: Buy and Hold Really Works.
Chapter 14: Making Money Is What Matters.
Chapter 15: Time Is Everything.
Chapter 16: Give Your Portfolio an Occasional Tune-Up.
Chapter 17: Stupid Math Tricks for Smart Investors.
PART 4: STAY ON COURSE.
A look at the things that can cause investors to come unglued.
Chapter 18: "It's a Mad, Mad, Mad, Mad World".
Chapter 19: Why You May Be Your Own Worst Enemy.
Chapter 20: Bear Markets Will Test Your Resolve.
Chapter 21: "Ain't Got No Distractions, Can't Hear Those Buzzers and Bells".
Chapter 22: Regrets? I've Had a Few.
Appendix A: A Guide to Stock and Bond Funds.
Appendix B: Some Industry Jargon.
Recommended Reading: For Background and for Fun.
Index.