Strategic Flexibility: Managing in a Turbulent Environment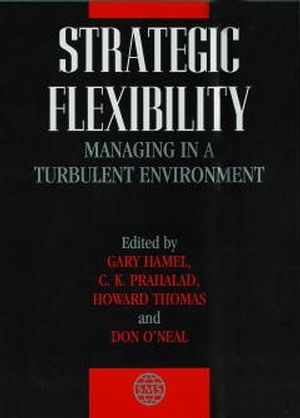 Strategic Flexibility: Managing in a Turbulent Environment
ISBN: 978-0-471-98473-3
Jan 1999
416 pages
Description
Published in association with the Strategic Management Society, this books illustrates the best in global strategic management. In particular, the theme of "strategic flexibility"--i.e., the ability to manage effectively in a world of ever-growing change--is introduced.
INNOVATION.

Improving Innovation Performance in Older Firms: The General Manager's Role (J. Christiansen).

Everyday Innovation/Everyday Strategy (G. Johnson & A. Huff).

Cooperative R&D and Competence Building (B. Quelin & C. Mothe).

Strategic Trajectories and Patterns of Innovation (J. Stimpert, et al.).

ORGANIZATION.

The H-P Way: An Application Using Deliberate and Emergent Corporate Cultures to Analyze Strategic Competitive Advantage (S. Kowalczyk & G. Giusti).

Good for Practice: An Integrated Theory of the Value of Alternative Organizational Forms (R. Miles, et al.).

Strategic Reengineering: An Internal Industry Analysis Framework (K. Pritsker).

Changing Formal and Informal Structure to Enhance Organizational Knowledge (T. Thompson & K. Valley).

LEADERSHIP.

Opening Pandora's Box: Do Good Ethics Make Good Business? (P. Godfrey, et al.).

Sage, Visionary, Prophet and Priest: Leadership Styles of Knowledge Management and Wisdom (S. Green & P. Cooper).

Information Competences and Knowledge Creation at the Corporate Centre (Y. Merali & J. McGee).

Evaluating Board Performance (D. O'Neal & H. Thomas).

Where Do Strategic Ideas Come From? (P. Raimond).

PARTNERSHIP.

Strategic Supplier Segmentation: A Model for Managing Suppliers in the 21st Century (J. Dyer, et al.).

An Investigation of the Knowledge Structures of French and German Managers (S. Floyd, et al.).

COMPETENCE.

The Alchemy of Competence (T. Durand).

Structure Decisions and the Multinational Enterprise: A Dynamic Competence Perspective (D. Garvis & W. Bogner).

Discovering Strategy: Competitive Advantage from Idiosyncratic Experimentation (R. McGrath).

Strategic Renewal and Competence Building: Four Dynamic Mechanisms (H. Volderba & C. Baden-Fuller).