Strategic Hospitality Leadership: The Asian Initiative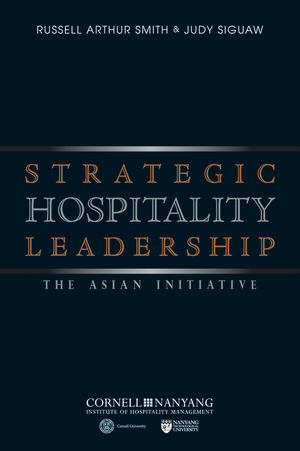 Strategic Hospitality Leadership: The Asian Initiative
ISBN: 978-0-470-82687-4 January 2011 224 Pages
Description
Doing business in the tourism and hospitality scene in Asia can be very interesting and rewarding but also poses many challenges.

Not many books have been written on the hospitality industry in Asia. Strategic Hospitality Leadership makes a useful contribution, providing the first specialized approach to the business of hospitality in Asia.

The book is an invaluable resource of reference and insightful compendium by contributors who are the Cornell School of Administration's alumni, the Cornell-Nanyang Institute of Hospitality Management faculty, and members of its Joint Advisory Board. Their varied backgrounds and profound appreciation of the complexities in building enterprises from the ground up, or expanding an on-going business organization are the types of first-hand knowledge and perspective that is beneficial, informative, and inspirational to industry veterans and students alike. These contributors include chief executives and senior management of hotels and resorts, serviced apartments, restaurants, and food and beverage groups, who have been successful in Asia. 

Strategic Hospitality Leadership provides readers with the collective wisdom of these successful top executives on a range of topics including brand management, strategic direction, service, marketing, human resource, crisis management, business growth, leadership, portfolio management, best practices, and development. The book will help current and future leaders address major issues that are being and will continue to be confronted in the hospitality industry in Asia, and aims to increase the success of new entrants into Asia.  

Foreword.
Preface.
About the Contributors.
1. Pursuing the Right Strategic Direction (Baron R. Ah Moo).
2. Achieving Successful Development Planning (Russell Arthur Smith).
3. Creating a Welcoming Service Strategy (Raymond Bickson).
4. Winning Ways to Successful Portfolio Management (William E. Heinecke).
5. Strengthening Brand Management and Value (Michael Issenberg).
6. Venturing Into an Asian Market Competitively (Devin Kimble).
7. Achieving Great Business Growth (Chiaki Tanuma).
8. Managing Crises Effectively (Chittimas Ketvoravit).
9. Establishing Strategic Human Resource (Choe Peng Sum).
10. Being an Inspiring Leader (Jennie Chua).
11. Developing and Implementing Best Practices (Judy Siguaw).
12. Looking Ahead at Hospitality Trends in Asia (Russell Arthur Smith).
Index.