Strategic Management: An Analytical Introduction, 3rd Edition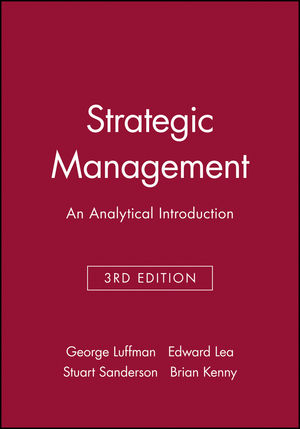 Strategic Management: An Analytical Introduction, 3rd Edition
ISBN: 978-0-631-20104-5
Aug 1996, Wiley-Blackwell
512 pages
Description
Strategic Management is a new and up to the minute text and cases book for students of strategy based on combined new editions of the highly successful, Business Policy and Cases in Business Policy. Including six new chapters and an extensive selection of new cases, Stategic Managemnent retains the consise and accessible approach of the previous editors of the text and cases.
The text is designed to give a clear and attractive introduction to the subject of strategy and business policy and all the material presented has been tried and tested on a variety of undergraduate, postgraduate and executive development courses.
This new package has been carefully and intensively developed by the experienced author team, each of whom have over 20 years' experience in teaching, researching and consulting in the area of business strategy.
Strategic Management is enhanced by a student workbook, and an instructor's manual.
Part I: The Business Policy Framework.
1. Introduction to Business Policy.
2. Strategic Managers and Strategic Planning.
3. Values Culture and Power.
4. Mission and Objectives.
Part II: External Analysis.
5. Environmental Analysis.
6. Customer and Competitor Analysis.
7. Understanding Industries and Markets.
Part III: Analysing Resources and Capabilities.
8. Internal Audit.
9. Financial Analysis.
10. Analysing Performance.
11. Sources of Competitive Advantage.
Part IV: Identifying Strategic Alternatives.
12. Strategic Direction.
13. Global Strategies.
14. Strategies for Declining Industries.
15. Corporate Collapse and Turnaround.
Part V: Strategic Choice.
16. Acquisition and Divestment.
17. Strategic Alliances.
18. Competitive Strategies.
19. Deciding on Future Strategy.
Part VI: Implementing Strategies.
20. Implementing Strategy.


New text bringing text and cases together for ease of use.


Based on highly successful previous editions of Business Policy and cases in Business Policy.


Thoroughly revised, updated, tested and accessible materials.


Part of a major new pack of teaching materials.