Strategic Management in Construction, 2nd Edition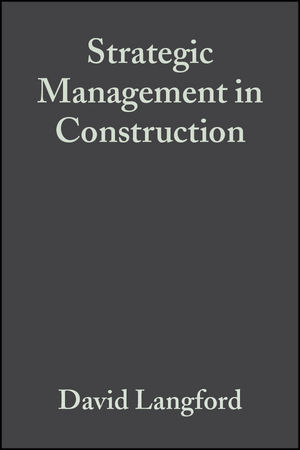 Strategic Management in Construction, 2nd Edition
ISBN: 978-0-470-68004-9 April 2008 Wiley-Blackwell 256 Pages
Description
This book reviews the general theory of strategy, relates it to the particular circumstances of the construction industry, and shows how it can be applied in practice. It brings together ideas from economics, marketing, management, business and politics to develop strategic management for both contractors' firms and the associated professions.

Substantial changes have occurred in the industry since the book was first published in 1991. This Second Edition reflects the major developments that have followed the Latham and Egan reports, and includes new chapters on international strategy and marketing, showing how they can contribute to the strategic planning of construction organizations.

The book will provide a valuable tool for the strategic development of construction firms.


"Ten years separate the editions during which period a significant number of British, (and other), construction firms which had survived generations of proprietors merged, changed beyond recognition or ceased trading. One can not but wonder if publication of a work on strategic planning some twenty year earlier might have saved some of them." Construction Manager


"The book presents the essential elements for managing at this higher level and should be a must for any construction professional who aspires to an executive position in industry as well as any student for construction management, project management and organizational management in construction. It comes highly recommended" Engineering, Construction and Architectural Management
Introduction PART A - Construction and its Business Environment.
Construction - an Overview of the Market.
The Strategic Role of the Actors in the Construction Process.
Clients, Constructors and Competencies.
PART B - Concepts of Strategic Management.
The Firm and the Strategic Management Process.
Strategic Behaviour of Construction Firms.
Strategies for International Construction.
PART C - Techniques for the Strategic Planner.
Portfolio Management, Delphi Techniques and Scenarios.
Marketing and Promotional Strategies in Construction.
PART D - Summary.
A synthesis of Strategic Management in Construction.
Index.
* Strategic management increasingly important after the industry's major problems of recession in the early 90s.
* Second edition features new applications of strategic management and new case studies