Strategic Management in the Global Economy, 3rd Edition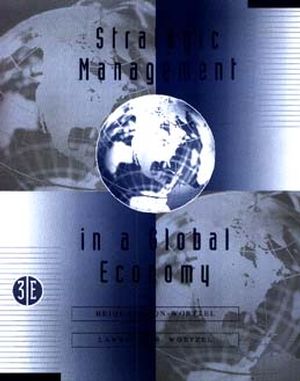 Strategic Management in the Global Economy, 3rd Edition
ISBN: 978-0-471-15873-8
Aug 1996
592 pages
Description
This book addresses all aspects of strategic planning in a global workplace, from management and marketing to finance and production operations management. It includes contemporary and classic articles as well as alternative points of view. From predictions of what to expect throughout this decade to proven forecasting and budgeting tools, this book offers both valuable insight and practical advice.
Partial table of contents:

GLOBAL FIRMS AND THE GLOBAL ENVIRONMENT.

Vernon: Where Are the Multinationals Headed.

THE GLOBALIZATION PROCESS.

Melin: Internationalization as a Strategy Process.

COMPETITIVE ANALYSIS AND STRATEGIC PLANNING: THE CORPORATE VIEW.

Porter: Changing Patterns of International Competition.

COMPETITIVE ANALYSIS AND STRATEGIC PLANNING: THE COUNTRY VIEW.

Dunning: The Competitive Advantage of Countries and MNE Activity.

STRATEGIC ALLIANCES.

Tallman and Shenkar: A Managerial Decision Model of International Cooperative Venture Formation.

MARKETING.

Ohmae: The Rise of the Region State.

PRODUCTION.

MacCormack, Newman, and Rosenfield: The New Dymanics of Global Manufacturing Site Location.

R&D AND TECHNOLOGY MANAGEMENT.

De Meyer: Management of International R&D Operations.

FINANCE.

Lessard: Global Competition and Corporate Finance in the 1990s.

ORGANIZATION AND HUMAN RESOURCES MANAGEMENT.

Hofstede: The Business of International Business Is Culture.

INFORMATION AND INFORMATION PROCESSING.

Babbar and Rai: Competitive Intelligence for International Business.
In their latest text, Heidi Vernon-Wortzel and Lawrence H. Wortzel have selected a collection of 40 articles that focus on the strategic approach managers must take to prosper in the global environment.
These articles address the concerns of managers in small international firms as well as multinational managers.
In addition to covering the traditional functional business areas (marketing, production, finance, and human resources) this edition focuses on new and emerging topics such as the corporate and country views of competitive analysis and strategic planning.