Strategic Management of Information Systems, 5th Edition International Student Version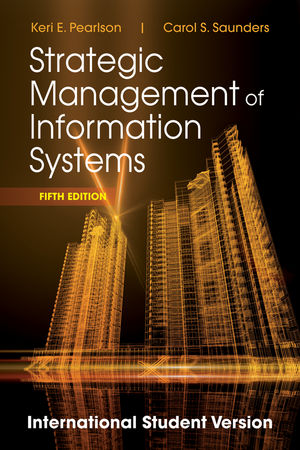 Strategic Management of Information Systems, 5th Edition International Student Version
ISBN: 978-1-118-32254-3
Nov 2012
416 pages
Product not available for purchase
Description
Pearlson and Saunders' Strategic Management of Information Systems, Fifth Edition, conveys the insights and knowledge MBA students need to become knowledgeable and active participants in information systems decisions. This text is written to help managers begin to form a point of view of how information systems will help, hinder, and create opportunities for their organizations. It is intended to provide a solid foundation of basic concepts relevant to using and managing information.
Introduction
Chapter 1 Linking Systems Strategy and the Organization
Chapter 2 Strategic Use of Information Resources in a Global Economy
Chapter 3 Organizational Strategy: Managerial Levers
Chapter 4 Work Design: Enabling Global Collaboration
Chapter 5 Building and Changing Global Business Processes
Chapter 6 Information Systems Strategy: Architecture and Infrastructure
Chapter 7 Cost Recovery of Information Systems
Chapter 8 Governance of the Information Systems Organization
Chapter 9 Sourcing Information Systems around the World
Chapter 10 Managing Projects in a Global Ecosystem
Chapter 11 Business Analytics and Knowledge Management
Chapter 12 Ethical Guidelines for Information Use
Index
Each chapter now features a new textbox called Social Business Lens, that selects on topic related to the main chapter and is enabled or fundamental to using social tools in the enterprise.
Many chapters also feature a Geographic Lens box, a single idea from a global issue related to the topic of the chapter.
Food For Thought sections are now integrated into the chapter or moved to the book's companion website.
The Business of IT chapter and the Governance chapter have been significantly revised.
Designed as a foundational book on IS concepts from which professors can build in their own selection of cases and readings.
Covers the key, fundamental issues that managers need to be knowledgeable and active participants in information systems decisions.
Uses the IS Strategy Triangle as a unifying theme to show the strategic context of all topics.