Strategic Management of e-Business, 2nd Edition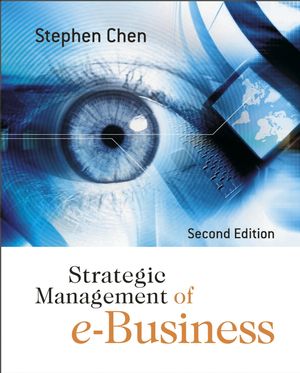 Strategic Management of e-Business, 2nd Edition
ISBN: 978-0-470-87074-7 April 2005 384 Pages
Description
Strategic Management of e-Business, Second Edition focuses on the strategic implications of e-business and examines the strategies employed in a range of industries, providing a comprehensive review of current research and practice. This new edition features up-to-date case studies and data, and includes new material on developments in mobile Internet technology, the success and failure of Internet business models, and much more.
Table of contents
Preface to the second edition.
Preface to the first edition.
About the Author.
Chapter 1. Introduction to E-Business.
Chapter 2. The Basics of E-Business Technology.
Chapter 3. The Markets for Electronic Commerce.
Chapter 4. E-Marketing.
Chapter 5. The Economics of E-Business.
Chapter 6. Analysing the Industry Impacts of E-business.
Chapter 7. Developing an E-Business Strategy.
Chapter 8. Implementing an E-Business Strategy.
Chapter 9. Public Policy Issues.
Chapter 10. Future Trends.
New To This Edition
Thorough revision of successful textbook including new material on: developments in mobile Internet technology, the success and failure of various Internet business models, developments in Asia-Pacific markets, integrating e-Business strategy with general business strategy, the use of electronic communities in information and software production, developments in marketing using wireless devices, changes in political initiatives and public policy, the global impacts of e-Business, and reflections on lessons learned from the dot com crash.  Case studies and data will also be updated.

Focuses on the strategic implications of e-Business and examines strategies employed by firms in a range of different industries

Provides a review of current academic research and practice in e-Business strategy

Web-based supplementary materials for lecturers adopting the book include PowerPoint slides, answers to end of chapter questions, and web links.
Features
Helps students develop the knowledge and skills required in the formulation and implementation of strategies for businesses competing in electronic markets. It shows the student how to: be aware of the key technologies currently used for electronic commerce and how they are used understand the strategic, marketing and organizational implications of electronic commerce appreciate the economic, social, and legal implications of electroinc commerce understand the strategic issues and the strategies being employed by firms in electronic commerce in a range of industry sectors be able to asses the commercial potential of new electronic technologies

There is a balance between theory and practice, teaching business skills and concepts within a sound research-based theoretical framework that will still be of practical value in developing a strategy for electronic commerce.