Strategic Market Management, 11th Edition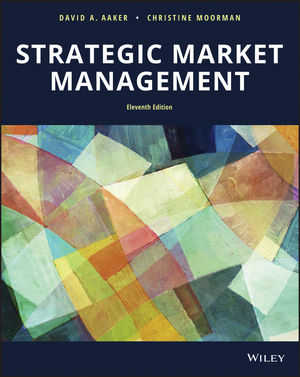 Strategic Market Management, 11th Edition
ISBN: 978-1-119-39220-0
Sep 2017
392 pages
Description
TRY (FREE for 14 days), OR RENT this title: www.wileystudentchoice.com

Strategic Market Management, helps managers identify, implement, prioritize, and adapt market-driven business strategies in dynamic markets. The text provides decision makers with concepts, methods, and procedures by which they can improve the quality of their strategic decision-making. The 11th Edition provides students in strategic marketing, policy, planning, and entrepreneurship courses with the critical knowledge and skills for successful market management, including strategic analysis, innovation, working across business units, and developing sustainable advantages.
Chapter 1 Strategic Market Management—An Introduction and Overview 1
What Is a Business Strategy? 3
Strategic Market Management 10
Marketing and Its Role in Strategy 14
PART ONE STRATEGIC ANALYSIS 17
Chapter 2 External and Customer Analysis 19
External Analysis 19
The Scope of Customer Analysis 23
Segmentation 23
Customer Motivations 28
Unmet Needs 31
Chapter 3 Competitor Analysis 39
Identifying Competitors—Customer-Based Approaches 40
Identifying Competitors—Strategic Groups 42
Potential Competitors 44
Competitor Analysis—Understanding Competitors 44
Competitor Strengths and Weaknesses 49
The Competitive Strength Grid 52
Obtaining Information on Competitors 55
Chapter 4 Market/Submarket Analysis 59
Dimensions of a Market/Submarket Analysis 59
Emerging Submarkets 61
Actual and Potential Market or Submarket Size 62
Market and Submarket Growth 63
Market and Submarket Profitability Analysis 65
Cost Structure 68
Distribution Systems 69
Market Trends 69
Key Success Factors 70
Risks in High-Growth Markets 71
Chapter 5 Environmental and Strategic Analyses 78
Environmental Analysis 79
Strategic Analysis 89
From Analysis to Strategy 96
PART TWO CREATING, ADAPTING, AND IMPLEMENTING STRATEGY 101
Chapter 6 Creating Advantage: Customer Value Leadership 103
Alternative Value Propositions 104
Customer Value Leadership 110
Managing for Customer Value Leadership 114
Chapter 7 Building and Managing Customer Relationships 122
The Customer Decision Journey 122
Managing Customer Experience 128
Toward Long-Term Customer Relationships 137
Chapter 8 Creating Valuable Customers 146
The Purchase Funnel 147
Customer Lifetime Models and Strategy Effectiveness 152
Customers as Valuable Assets 157
Chapter 9 Building and Managing Brand Equity 162
Brand Awareness 163
Brand Loyalty 164
Brand Associations 165
Brand Identity 171
Chapter 10 Toward a Strong Brand Relationship 180
Understanding and Prioritizing Brand Touchpoints 180
Focusing on the Customer's Sweet Spot 182
How to Create or Find a Customer Sweet Spot 184
Get Beyond Functional Benefits 185
Broadening the Concept of a Brand 187
Chapter 11 Energizing the Business 194
Innovating the Offering 195
Energizing the Brand and Marketing 200
Increasing the Usage of Existing Customers 208
Chapter 12 Leveraging the Business 214
Which Assets and Competencies Can Be Leveraged? 215
Expanding the Scope of the Offering 220
New Markets 221
Evaluating Business Leveraging Options 222
The Mirage of Synergy 224
Chapter 13 Creating New Businesses 230
Create "Must Haves," Rendering Competitors Irrelevant 231
The Innovator's Advantage 234
Managing Category Perceptions 236
Creating New Business Arenas 237
From Ideas to Market 242
Chapter 14 Global Strategies 248
Motivations Underlying Global Strategies 249
Standardization vs. Customization 253
Expanding the Global Footprint 257
Strategic Alliances 259
Global Marketing Management 262
Chapter 15 Setting Priorities for Businesses and Brands 266
The Business Portfolio 267
Divestment or Liquidation 269
The Milk Strategy 272
Prioritizing and Trimming the Brand Portfolio 275
Chapter 16 Harnessing the Organization 283
Customer-Centric Organizational Cultures 284
Customer-Centric Competencies 286
Customer-Centric Organizational Structure 288
Metrics and Incentives for Customer Centricity 291
Leading for Customer Centricity 292
Customer-Centric Talent 294
Chapter 17 How Marketing Activities Create Value for Companies 303
The Impact of Customer and Brand Equity on Firm Revenues 304
The Effect of Marketing Assets on Firm Value 307
How Markets Value Marketing Assets 311
Managing Marketing to Contribute to Firm Value 314
Case Studies 320
The Energy Bar Industry 320
Assessing the Impact of Changes in the Environment 322
Creating a New Brand for a New Business 324
Competing Against the Industry Giant 326
Leveraging a Brand Asset 329
Appendix A: Internal Analysis 332
Appendix B: Planning Forms 339
Notes 354
Index 367
Three new chapters were added to the book:
- Chapter 7, ""Building and Managing Customer Relationships"" examines how companies create strong customer relationships.
- Chapter 8, ""Creating Valuable Customers"" focuses on ensuring that customers are create value for the company.
- Chapter 17, ""How Marketing Creates Value for Companies"" examines customer equity and brand equity with a focus on how these assets improve firm value.
Chapter 5, "Environmental and Strategic Analyses" was significantly revised to focus on contemporary trends in the marketing environment.
Chapter 6 "Creating Advantage: Customer Value Leadership" introduces the idea of customer value leadership as the basis for strategic advantage.
Materials throughout the rest of the book were updated.
Each chapter (except Chapter 1) contains two new "Best Practice" case studies—one digital and one global that focus on successful companies and highlight aspects of their strategies that correspond to the chapter topic.
A business strategy focus that includes consideration of product/market scope, value proposition, assets and competencies, and functional area strategies.
A structured strategic analysis, including customer, competitor, market, environmental, and internal analyses, leading to an understanding of market dynamics that is supported by tools, frameworks, and planning forms.
A detailed discussion of the various types of customer value propositions as the basis for strong customer relationships and brands.
A deep discussion of how to grow the company by energizing the business, leveraging the business into new areas, creating new businesses, and going global.
A comprehensive analysis of how to harness the key organization activities to create an effective strategy for long-term performance.
A view of strategy emphasizing the dynamic nature of markets, which requires customer-driven strategies.