Strategic Market Management, European Edition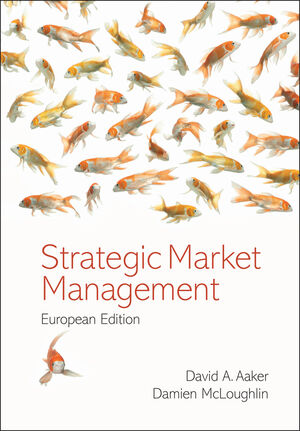 Strategic Market Management, European Edition
ISBN: 978-1-119-95839-0 December 2012 368 Pages
Product not available for purchase
Description
The European edition of Strategic Market Management has been prepared with the objective of taking David Aaker's outstanding and well-established textbook and presenting it to a European audience. It retains the culture of the original text, to maintain its accessibility and continue its emphasis on practical action. It has also kept the compactness, which has made it so popular with graduate and executive students and managers, while keeping a comprehensive coverage of major and emerging themes in strategy. The core value of the original text, that the development, evaluation and implementation of business strategies are essential to successful management, is also retained in the European edition.

The book is essential reading for any management or business school course that focuses on the management of strategies. It is especially appropriate for marketing strategy, strategic management and business policy courses. It is also designed to be used by managers who need to develop strategies or who run a small business and want to improve their strategy development and planning processes.
Preface.
Acknowledgments.
PART ONE: INTRODUCTION AND OVERVIEW.
Chapter 1: Business Strategy: The Concept and Trends in Its Management.
What is a Business Strategy?
Strategic Options.
Strategic Market Management: Characteristics and Trends.
Why Strategic Market Management?
Chapter 2: Strategic Market Management: An Overview.
External Analysis.
Internal Analysis.
Creating a Vision for the Business.
Strategy Identifi cation and Selection.
Selecting Among Strategic Alternatives.
The Process.
PART TWO: STRATEGIC ANALYSIS.
Chapter 3: External and Customer Analysis.
External Analysis.
The Scope of Customer Analysis.
Segmentation.
Customer Motivations.
Unmet Needs.
Chapter 4: Competitor Analysis.
Identifying Competitors – Customer-Based Approaches.
Identifying Competitors – Strategic Groups.
Potential Competitors.
Competitor Analysis – Understanding Competitors.
Competitor Strengths and Weaknesses.
Obtaining Information on Competitors.
Chapter 5: Market Analysis.
Dimensions of a Market Analysis.
Actual and Potential Market Size.
Market and Submarket Growth.
Market and Submarket Profi tability Analysis.
Cost Structure.
Distribution Systems.
Market Trends.
Key Success Factors.
Risks in High-Growth Markets.
Chapter 6: Environmental Analysis and Strategic Uncertainty.
Dimensions of Environmental Analysis.
Dealing with Strategic Uncertainty.
Impact Analysis – Assessing the Impact of Strategic Uncertainties.
Scenario Analysis.
Chapter 7: Internal Analysis.
Financial Performance – Sales and Profi tability.
Performance Measurement – Beyond Profi tability.
Determinants of Strategic Options.
From Analysis to Strategy.
Business Portfolio Analysis.
The BCG Growth-share Matrix.
Case Challenges for Part Two.
The Soft Drinks Market.
Tesco.
PART THREE: ALTERNATIVE BUSINESS STRATEGIES.
Chapter 8: Creating Advantage – Synergy and Vision Versus Opportunism.
The Sustainable Competitive Advantage.
The Role of Synergy.
Strategic Vision Versus Strategic Opportunism.
A Dynamic Vision.
Chapter 9: Strategic Options: Quality and Brand Equity.
Business Strategy Challenges.
Strategic Options.
The Quality Option.
The Brand Equity Option.
Chapter 10: Strategic Options: Value, Focus, Innovation and Customer Relationships.
The Value Option.
Focus.
Innovation.
The Customer Relationship Option.
Chapter 11: Global Strategies.
Motivations Underlying Global Strategies.
Indicators that Strategies should be Global.
What Country to Enter?
Standardisation Versus Customisation.
Global Brand Management.
Strategic Alliances.
Chapter 12: Strategic Positioning.
The Role of the Strategic Position.
Strategic Position Options.
Developing and Selecting a Strategic Position.
Case Challenges for Part Three.
Neau.
Innocent.
PART FOUR: GROWTH STRATEGIES.
Chapter 13: Growth Strategies: Penetration, Product-Market Expansion,Vertical Integration, and the Big Idea.
Growth in Existing Product Markets.
Product Development for the Existing Market.
Market Development Using Existing Products.
Vertical Integration Strategies.
The Big Idea.
Chapter 14: Diversifi cation.
Related Diversifi cation.
The Mirage of Synergy.
Unrelated Diversifi cation.
Entry Strategies.
Chapter 15: Strategies in Declining and Hostile Markets.
Creating Growth in Declining Industries.
Be the Profi table Survivor.
Milk or Harvest.
Divestment or Liquidation.
Selecting the Right Strategy for the Declining Environment.
Hostile Markets.
Case Challenges for Part Four.
Dove.
Green & Black's.
PART FIVE: IMPLEMENTATION ISSUES.
Chapter 16: Organisational Issues.
A Conceptual Framework.
Structure.
Systems.
People.
Culture.
Obtaining Strategic Congruence.
Organising for Innovation.
A Recap of Strategic Market Management.
Case Challenges for Part V.
Vodafone.
Index.
A wealth of European examples and vignettes including cases on Tesco, Innocent, Dove, Neau, The Soft Drinks Market, Cadbury, Green & Blacks and Vodafone.
Revised coverage of topics such as brand equity, CRM, creating new market space, environmental scanning, consumer ethnography, webnography and feature fatigue.
A new base of five entrepreneurial thrusts that include, external analysis, sustainable competitive advantages, creating customer-oriented business strategies, investment decision and implementation.