Strategic Marketing: In the Customer Driven Organization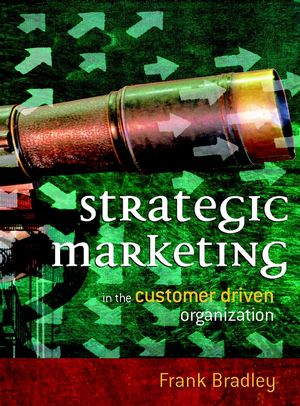 Strategic Marketing: In the Customer Driven Organization
ISBN: 978-0-470-86481-4
Oct 2003
304 pages
Product not available for purchase
Description
Very few competing texts in the academic arena focus directly on the customer. Many follow the old -fashioned marketing mix approach based on the four Ps or give little emphasis to the wider context of marketing. This book, however, is truly customer focused with a unique emphasis on the three reasons for the existence of the firm - to provide, communicate and deliver value.
In today's fast moving environment, marketing is one of the most, if not the most important functions of any successful organization. Students will learn in this book how to analyzing the customer base and strive to meet and excel customer expectations more effectively than the competition.
Scope of Strategic Marketing.
Part 1: Identifying and Selecting Customer Value.
Focus on the Customer.
Market Segmentation and Positioning.
Strategic Market Planning.
Obtaining Customer Information.
Competition in the Business System.
Part 2: Proving the Value.
Building Competitive Brands.
Developing New Products and Services.
Managing Product through the Life Cycle.
Part 3: Communicating the Value.
Marketing Communications.
Direct Marketing and Personal Selling.
Part 4: Delivering the Value.
Pricing Strategies and Tactics.
Marketing Channels of Distribution.
Aligning Performance with Marketing Strategy.
The author, Frank Bradley, is R & A Bailey Professor of International Marketing, Smurfit Graduate School of Business, University College Dublin. He is also the chair of the marketing department at the University College Dublin.
A unique emphasis on the three reasons for the existence of the firm, providing, communicating and delivering value
This book is internationally focused and will cover global marketing strategies.