Strategic Marketing For Health Care Organizations: Building A Customer-Driven Health System, 2nd Edition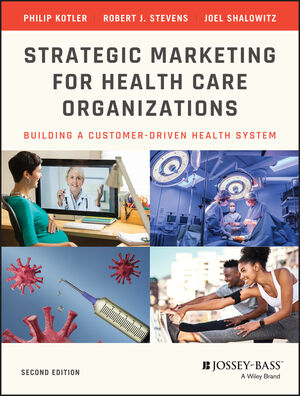 Strategic Marketing For Health Care Organizations: Building A Customer-Driven Health System, 2nd Edition
ISBN: 978-1-118-35583-1
Jul 2019, Jossey-Bass
600 pages
Product not available for purchase
Description
Strategic Marketing in Health Care Organiations in its first edition fast became one of the top selling introductory textbooks on marketing in health care organizations, applying world reknown professor Philip Kotler's strategic marketing model to the dynamic world of health care organizations. In this new edition, reflecting substantial input from adopters, the book further intensifies its focus on the unique marketing needs and solutions of health care organizations, including physican practices, hospitals, long term care facilities, public health facilities, insurers and managed care organizations, health care computing, pharmaceutical companies, biotechnology firms, and medical device manufacturers. Perspectives include marketing of products and services as well as social marketing, global approaches, and physician recruitment.  The book's tried-and-true stepwise approach guides readers in essential steps of developing a strategic marketing plan, putting it into effect, and measuring its outcomes, for all types of health care professionals. With Strategic Marketing for Health Care Organizations, students and future administrators will have a guide to the most successful strategies and techniques, presented ready to apply by the most knowledgeable authors.

Contents:

Chapter 1.  Health care management needs strategic marketing: Using marketing tools to solve problems and deliver value in health care. 

Chapter 2.  How to conduct an actionable health care market analysis: How, and why, to analyze the health care environment and specific markets. 

Chapter 3.  How to Write a Strategic Health Care Marketing Plan:  This chapter is a user manual for writing a health care marketing plan, covering 1) situation analysis, 2) marketing goals and objectives, 3) overall strategies, and 4) marketing mix strategies.  Appendix C outlines a sample marketing plan. 

Chapter 4.  The Consumer Market and Marketing to Consumers

Chapter 5.  The Physician Market and Marketing Physician Services

Chapter 6.  The Hospital Market and Marketing Hospital Services

Chapter 7.  The Pharmaceutical and Biotechnology Markets and Marketing Pharma and Biotech Products

Chapter 8.  The Medical Device Market and Marketing Medical Devices

Chapter 9.  The Health Information System Market and Marketing HIS

Chapter 10.  Applying Strategic Marketing to Social Health Care Marketing Organizations: Global initiatives will be included. 

Chapter 11.  Applying Strategic Marketing to Health Policy and Health Reform: How could legislators and policy administrators use strategic health care marketing to increase value?  How could a strategic marketing plan have helped improve the Affordable Care Act? 

Appendix: Health Care Marketing Cases : Harvard Business Publishing-quality cases.  Examples:  Hospice, HIV prevention in Africa, medical device, health reform, etc.