Strategic Marketing For Health Care Organizations: Building A Customer-Driven Health System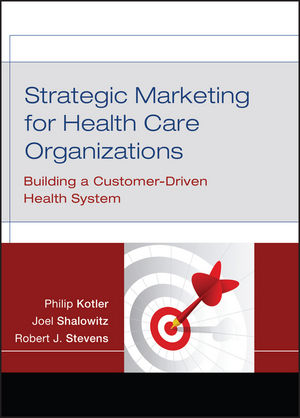 Strategic Marketing For Health Care Organizations: Building A Customer-Driven Health System
ISBN: 978-1-118-04717-0 January 2011 Jossey-Bass 576 Pages
Description
This much-needed text offers an authoritative introduction to strategic marketing in health care and presents a wealth of ideas for gaining the competitive edge in the health care arena. Step by step the authors show how real companies build and implement effective strategies. It includes marketing approaches through a wide range of perspectives: hospitals, physician practices, social marketing, international health, managed care, pharmaceuticals, and biotechnology. With Strategic Marketing for Health Care Organizations, students and future administrators will have a guide to the most successful strategies and techniques, presented ready to apply by the most knowledgeable authors.
Table, Figures, and Exhibits.
Preface.
Acknowledgments.
The Authors.
PART ONE: UNDERSTANDING THE HEALTH CARE SYSTEM AND THE ROLE OF MARKETING.
Chapter One: The Role of Marketing in Health Care Organizations.
Chapter Two: Defining the Health Care System and Its Trade-offs.
Chapter Three: The Health Care Industry and Marketing Environment.
Chapter Four: Determinants of the Utilization of Health Care Services.
PART TWO: ANALYZING THE MARKET.
Chapter Five: Strategy and Market Planning.
Chapter Six: How Health Care Buyers Make Choices.
Chapter Seven: Using Market Information Systems and Marketing Research.
Chapter Eight: Market Segmentation, Targeting, Positioning, and Competition.
PART THREE: APPLYING THE MARKETING MIX.
Chapter Nine: Shaping and Managing Product and Service Offerings.
Chapter Ten: Developing and Branding New Offerings.
Chapter Eleven: Pricing Strategies and Decisions in Health Care.
Chapter Twelve: Designing and Managing Health Care Marketing Channels.
Chapter Thirteen: Designing and Managing Integrated Marketing Communications.
Chapter Fourteen: Personal Marketing Communications: Word-of-Mouth, Sales, and Direct Marketing.
PART FOUR: IMPLEMENTING AND CONTROLLING THE MARKETING EFFORT.
Chapter Fifteen: Organizing, Implementing, and Controlling Marketing.
Glossary.
Notes.
Index.
Praise for Strategic Marketing for Health Care Organizations
"This outstanding book not only delineates powerful conceptual frameworks and tools but is also studded with real-life, captivating examples in organizations that range from governments to biotech firms to Web portals, that illustrate how to make it happen. A tour de force."
—Regina E. Herzlinger, Nancy R. McPherson Professor of Business Administration, Harvard Business School
"This book is a first-rate introduction to the concepts and tools professional marketers use to develop cutting-edge value propositions for key target audiences in a range of health care arenas. It offers both frameworks for thinking about marketing strategy and insights into a range of tactical alternatives. It is a state-of-the-art volume for those in various health care fields who are eager to be better marketers, students who want to join their ranks, and those who simply are wondering what marketing is all about and how it might help their organizations."
—Alan R. Andreasen, professor of marketing, McDonough School of Business, Georgetown University
"Kotler, Shalowitz, and Stevens, in this important book, Strategic Marketing for Health Care Organizations, make many valuable contributions to our field, especially their discussion of tradeoffs among the three core aims of any health care system: cost, quality, and access. Students and professionals continually face this problem all the time."
—Lawton R. Burns, James Joo-Jin Kim Professor, professor of Health Care Systems and Management, the Wharton School of the University of Pennsylvania and director, Wharton Center for Health Management and Economics
"This work places marketing as a core activity impacting all of health care, from prevention to continuing care. It provides a comprehensive foundation for beginners and a valuable reference for experienced managers on a major and often overlooked aspect of management."
—John R. Griffith, Andrew Pattullo Collegiate Professor, Department of Health Management and Policy and director, Griffith Leadership Center, Department of Health Management and Policy, University of Michigan School of Public Health