Strategic Planning for Information Systems, 3rd Edition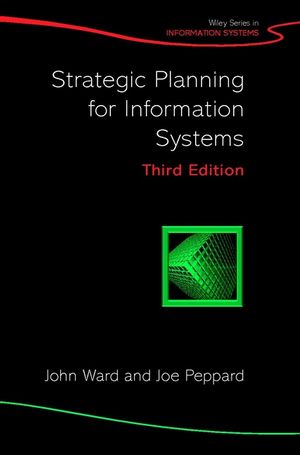 Description
Strategic Planning for Information Systems (3rd Edition) explores the impact that Information Systems (IS) have on business performance and the contribution IS makes to the strategic development of organizations. It describes IS tools, techniques and management frameworks--all of which identify opportunities for strategic thinking, and shows how IS is an indispensable component in the implementation of a strategic plan.
Series Preface.

Preface to the Third Edition.

Acknowledgements.

1. The Evolving Role of Information Systems and Technology in Organizations: A Strategic Perspective.

2. An Overview of Business Strategy Concepts and the IS/IT Strategy Implications.

3. Developing an IS/IT Strategy: Establishing Effective Processes.

4. IS/IT Strategic Analysis: Assessing and Understanding the Current Situation.

5. IS/IT Strategic Analysis: Determining the Future Potential.

6. Determining the Business Information Systems Strategy.

7. Managing the Applications Portfolio.

8. Strategic Management of IS/IT: Organizing and Resourcing.

9. Managing Investments in Information Systems and Technology.

10. Strategies for Information Management: Towards Knowledge Management.

11. Managing the Supply of IT Services, Applications and Infrastructure.

12. Strategic Planning for Information Systems: Quo Vadis?

Index.
The new edition is substantially updated and illustrated with new case material and examples.
Additional material covered includes the role of ecommerce, knowledge management, and benefits management systems.
The most useful of the thinking and experiences concerning IS/IT strategic management are discussed alongside the implications of recent IS/IT developments.
The new edition introduces more approaches and techniques to aid in developing and implementing strategies - to enable management and IS/IT professionals to identify what needs to be done and how best to do it.
This book demonstrates why strategic planning for information systems is essential to organizational success, especially in times of increasingly rapid change.
It also shows why some IS/IT investment works for some and not for others.
It is a practical and comprehensive book written in a clear and straightforward way.
The focus is more on strategic management of IS than on the progress made in recent years either in technology or business processes.
This is a well established and respected title, accessible for graduate/MBA MIS students as well as consultants and senior managers