Strategic Project Management Made Simple: Practical Tools for Leaders and Teams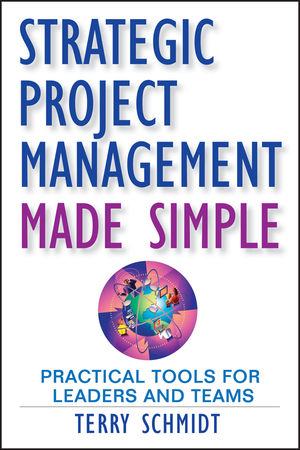 Strategic Project Management Made Simple: Practical Tools for Leaders and Teams
ISBN: 978-0-470-44293-7
Mar 2009
272 pages
Description
When Fortune Magazine estimated that 70% of all strategies fail, it also noted that most of these strategies were basically sound, but could not be executed. The central premise of Strategic Project Management Made Simple is that most projects and strategies never get off the ground because of adhoc, haphazard, and obsolete methods used to turn their ideas into coherent and actionable plans. Strategic Project Management Made Simple is the first book to couple a step-by-step process with an interactive thinking tool that takes a strategic approach to designing projects and action initiatives. Strategic Project Management Made Simple builds a solid platform upon four critical questions that are vital for teams to intelligently answer in order to create their own strong, strategic foundation. These questions are:

1. What are we trying to accomplish and why?

2. How will we measure success?

3. What other conditions must exist?

4. How do we get there?

This fresh approach begins with clearly understanding the what and why of a project - comprehending the bigger picture goals that are often given only lip service or cursory reviews. The second and third questions clarify success measures and identify the risky assumptions that can later cause pain if not spotted early. The how questions - what are the activities, budgets, and schedules - comes last in our four-question system. By contrast, most project approaches prematurely concentrate on the how without first adequately addressing the three other questions. These four questions guide readers into fleshing out a simple, yet sophisticated, mental workbench called "the Logical Framework" - a Systems Thinking paradigm that lays out one's own project strategy in an easily accessible, interactive 4x4 matrix. The inclusion of memorable features and concepts (four critical questions, LogFrame matrix, If-then thinking, and Implementation Equation) make this book unique.
Acknowledgements.
Introduction.
Why I Wrote This Book.
Getting the Most from This Book.
Three Logical Parts.
Part One: Are You Strategic?
Chapter 1. Thinking Outside the bar Chart.
Tackling the big Hairy Issues.
Mastering Strategic Project Management.
Start Smart.
Lessons Learned Along the Way.
Why Read This book?
Beware These Six Dangerous Planning Mistakes.
Key Point review.
Chapter 2. Building Strong Project backbones.
Asking the Four Critical Strategic Questions.
Concepts from the Cornfield.
Making Strategy Simple.
Test Your Strategic If-Then IQ.
Sorting Out Your Objectives.
Organizing Multiple Objectives Into Trees.
Key Points Review.
Chapter 3. Introducing the Logical Framework.
The Best Solutions Tool You'll Ever Find.
Systems Thinking: Conceptual Foundation o the Logical Framework.
Tackling the Four Critical Strategic Questions.
Grab a Front-Row Workshop Seat.
Ingredients of the Grid.
Key Points Review.
Chapter 4. Aligning Projects With Strategic Intent.
Strategy in a Nutshell.
Juggling Portfolios and Programs.
Managing Multiple Bottom Lines.
Quick and Clean Strategic Planning at Any Level.
Eight Logical Planning Steps.
Key Points review.
Part Two: Mastering the Four Critical Strategic Questions.
Chapter 5. Question #1 - What Are We trying to Accomplish and Why?
Shoot for the Moon.
Linking Objectives Into Logical Levels.
Turning a Problem Into a Set of Objectives.
Terry's Tips for Clear Objectives.
Exploring Distinctions Among LogFrame Levels.
Sculpting Your Project Masterpiece.
Key Points review.
Application Step #1.
Chapter 6. Question #2 - How Do We Measure Success?
Winning The peace After Winning the War.
Four Tips for Meaningful Measures.
Measures Sharpen Vague Objectives.
Managing Complex Enterprise-Wide Change.
Special Situations Demand Special Measures.
Key Points Review.
Applications Step #2.
Chapter 7. Question #3 - What Other Conditions Must Exist?
The Whoops Hall of Shame.
Spotting Trouble Before It Comes.
How the Log Frame Accommodates Assumptions.
Three Steps for Managing Assumptions.
Making Fine Point Distinctions.
Key Points review.
Application Step #3.
Chapter 8. Question #4 - How Do We get there?
The Ancient Project that Saved the World.
Chunking 101.
Organizing Inputs: Nitty Gritty Project Planning.
Clarify Resource requirements.
Make Responsibility Clear to All.
Applying Schmidt's Law of Planning Density.
Defining the Next Action Step.
Key Points Review.
Application Step #4.
Part Three: Putting The Concepts Into Action.
Chapter 9. Managing the Strategic Action Cycle.
Taking a "Cycle-Logical" Approach.
Three Types of Assessment.
Type One Assessment: Project Monitoring.
Type Two Assessment: Project Status review.
Type Three Assessment: Project Evaluation.
Celebrating Success.
LogFrame Limitations and Best Practices.
Key Points review.
Chapter 10. Managing the People Dynamics.
The Heart and Soul of Projects.
Engaging Your Key Stakeholders.
Building Your Own Dream Team.
Creating Shared Norms for High Performance.
Sharpening Your Emotional Intelligence.
Techniques for Increasing Your Emotional Intelligence.
Key Points Review.
Chapter 11. Applying These Ideas In Your World.
Exploring a Dozen Dynamic Directions.
Terry's Tips for Doing the Project RAP (Rapid Action Planning).
Facilitating by Yourself.
Taking Strategic Action Now.
Appendix : reference Tools and Resources.
Blank Logical Framework Grid.
Logical Framework Quality Checklist.
Logical Framework Application Case Studies.
Ongoing Support and Services.
Glossary and Usage of Terms.
About the Author.
Index.