Strategies for Engineering Communication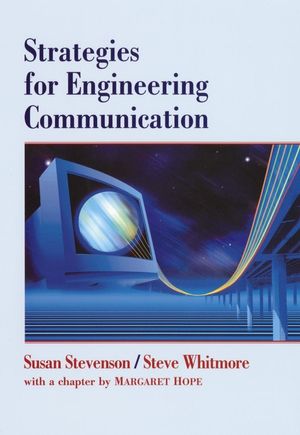 Strategies for Engineering Communication
ISBN: 978-0-471-12817-5
Jun 2001
384 pages
Description
This innovative text, Strategies for Engineering Communication, addresses fundamental issues of communication while also providing numerous strategies relating to the writing process, to persuading and informing, and to team writing, listening, speaking, style, form, and genre. Grounded in rhetorical theory, this text helps engineers develop flexible strategies for researching, inventing, drafting, and revising, and for meeting the challenges of the many audiences, purposes, and contexts encountered at school and at work.
Planning and Inventing Strategies.

Drafting and Revising Strategies.

Rhetorical Strategies.

Strategies for Teamwork and Workplace Communication.

Oral Presentation Strategies.

Stylistic Strategies.

Format Strategies.

Document Strategies and Sample Documentation.

Index.
The text is designed around general principles of communication that can be applied to more specific circumstances. Thus, students and instructors can apply these principles to their speaking and writing or teaching irrespective of the specific field of engineering in which they are working. Similarly, the text is based on rhetorical principles.
Engineering students are addressed directly and the examples used throughout the text are largely drawn from real documents written by students and professional engineers. The text is clearly relevant in that it reflects what is really happening in school and the work place. The relevance of the text helps increase students' motivation because they can identify and relate to some of the issues occurring in their own writing.
Exercises are broadly and practically applicable to learning how to develop the skills necessary to adapt to a variety of writing situations.
While the differences between speech and writing are clearly described, the similarities are also stressed. Students are able to adapt written reports into a form suited to oral presentation.
An emphasis on rhetorical principles is maintained throughout the text. This emphasis enables students to become flexible communicators who can adapt to a variety of situations, including unfamiliar ones.
Beyond its content and approach, other features of this text include checklists, heuristics, and exercises. Every chapter but the last includes checklists that students can use while creating or revising documents and while preparing or practicing for individual or team presentations.
Use of heuristics. The authors also provide a number of heuristics, or lists of questions, students can use to analyze their writing processes, audiences, writing styles, and formats, to help guide their team writing, and to improve delivery of oral presentations.
Reinforcment of the concepts. Exercises at the end of chapters allow students to explore various aspects of communication and offer opportunities for practicing the strategies outlined in those chapters. These exercises can be used as a supplement to the writing assignments and oral presentations required for many engineering courses.
Engineering professors and engineers in the workplace have found the information contained in this text useful as a reference.