Strategies for Staff Development: Personal and Professional Education in the 21st Century: New Directions for Student Services, Number 84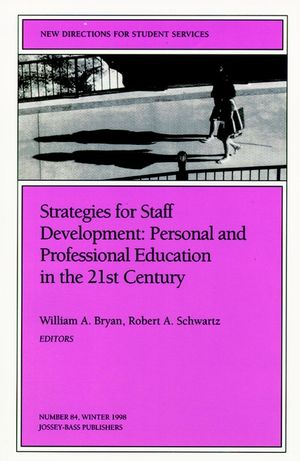 Strategies for Staff Development: Personal and Professional Education in the 21st Century: New Directions for Student Services, Number 84
ISBN: 978-0-787-94455-1
Jan 1999, Jossey-Bass
104 pages
Description
An educated, energetic, and motivated student affairs staff is critical to the delivery of quality learning opportunities and services for students. This volume offers a range of strategies for recruiting, retaining, and developing such a staff. The authors show how supervisors and mentors can make a positive impact on staff members' growth, and discuss how to build a solid career foundation for entry-level professionals. They also describe the influence of behavioral style on professional development, and present a performance-based approach to human resource development that emphasizes goal setting, coaching, and performance assessment.

This is the 84th issue of the quarterly journal New Directions for Student Services.
1. What Is Professional Development? (Robert A. Schwartz, William A. Bryan).
2. Performance-Based Approaches to Human Resource Development (Tyrone A. Holmes).
3. Staff Supervision and Professional Development: An Integrated Approach (Roger B. Winston, Jr., Don G. Creamer).
4. Creating a Culture of Development for the New Professional (Patricia J. Harned, Michael C. Murphy).
5. Influence and Impact: Professional Development in Student Affairs (Diane L. Cooper, Theodore K. Miller).
6. Using Self-Reflection for Personal and Professional Development in Student Affairs (Joanne E. Nottingham).
7. A Model for Staff Development in Student Affairs (Beverlyn Grace-Odeleye).
8. Some Final Thoughts About Staff Development (William A. Bryan, Robert A. Schwartz).