Strategies for Teaching Assistant and International Teaching Assistant Development: Beyond Micro Teaching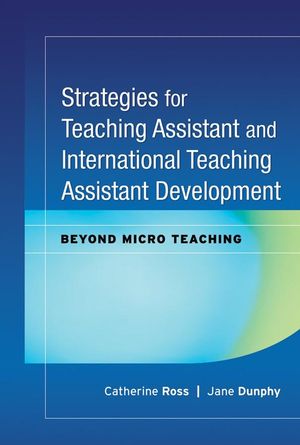 Strategies for Teaching Assistant and International Teaching Assistant Development: Beyond Micro Teaching
ISBN: 978-0-470-18082-2 October 2007 Jossey-Bass 208 Pages
Description
Written for anyone who works with graduate students to support their teaching efforts in American research universities, this book draws on the extensive experience of professional educators who represent a variety of programs throughout the United States. They understand the common constraints of many TA development classes, workshops, and programs, as well as the need for motivating and sophisticated techniques that are, at the same time, practical and focused. Their contributions to this book have proven to be effective in developing the sophisticated communication skills required by TAs across the disciplines.
About the Authors.
Foreword.
Preface.
Acknowledgments.
PART I: TA DEVELOPMENT.
1. Getting Started.
Acknowledging Teaching Fears: The Three-Minute Free Response (Janet Rankin).
An Approach to Successful Collaborative Learning (Nancy C. McClure).
Blended Learning: Focusing on Effective Teaching Through Online Discussions and Concept Mapping (Gabriele Bauer).
Diversity in the Classroom: Working Effectively with Undergraduate ESL Students (Shawna Shapiro).
Engaging Students in Active Learning (Shawna Shapiro).
Identity and Authority in the Classroom: An Exercise for New TAs (Mary C. Wright).
Planning and Facilitating Discussion (Phillip M. Edwards, Stacy Grooters, Margaret Lawrence).
Problems, Pitfalls, and Surprises in Teaching: Mini Cases (Lori Breslow, J. Mark Schuster).
Responding to Student Writing (Stacy Grooters, Jennie Dorman).
Stand and Deliver: Developing Impromptu Speaking Skills (Jane Dunphy).
A TA Orientation Plenary Session on University Policies and Resources for Teaching (Derek Bruff).
Teaching in Computer Classrooms (Shaun K. Kane, Joe Hannah, Phillip M. Edwards, Jennie Dorman).
Teaching in Lab Settings (Jennie Dorman, Michelle Smith, Sara O'Brien, Karen Freisem).
2. Advanced Skills.
Classroom Management Skills: Expanding Your Repertoire (Lee Warren).
Determining Appropriate Course Goals and Pacing: An Exercise for Advanced TAs (Allyson Polsky McCabe, Lu Zhang).
Developing Effective Consulting Skills (Michele Marincovich, Marcelo Clerici-Arias, Mariatte Denman, Robyn Wright Dunbar).
Interdisciplinary Soapbox (Jill Bible, Robyn Wright Dunbar).
Introduction to Online Teaching and Learning: Using Asynchronous Discussions Effectively (Mary C. Wright).
Reaction and Response: Group Problem Solving and Effective Feedback (Jane Dunphy).
Teaching Practice: Emphasis on Active Learning (Tershia Pinder).
3. Professional Development.
ASPECTS: Advancing Students' Professional Excellence with Certificates in Teaching Series (Mark Decker).
Mock Search Committee: Introduction to the Teaching Philosophy (Judith Gibber).
Teaching Portfolio Overview: Peer and Whole Group Discussion (Gabriele Bauer).
PART II: ITA DEVELOPMENT.
4. Culture.
Cultural Adjustments (Barbara Gourlay).
Diversity Awareness for ITAs (Doris Yaffe Shiffman).
High-Context Versus Low-Context Culture: Case Studies (Christine Liptak, Colleen Meyers, Kyoung-Ah Nam, Elena Stetsenko).
The High School Visit (Catherine Ross).
Interviews: Surveying College Undergraduates Who Attended High School in the United States (Margo Sampson, Vel Chesser, Stacey Lane Tice).
5. Pedagogy.
American Teaching Performance (Pamela Pollock).
Movie-Based Activities for the ITA Course (Theresa L. Pettit).
Pedagogical Uses of Critical Incidents Videos for ITAs (Stacey Lane Tice, Margo Sampson, Vel Chesser).
Practice Identifying and Teaching to a Variety of Learning Styles (Anne Halbert).
Preparing the ITA for Office Hours (Elizabeth Wittner).
6. Language.
Departmental Introduction Speech (Kimberly Kenyon).
Developing Oral Communication Skills (Margaret Lawrence).
Discovering and Teaching the Vocabulary of the Academic Communities (Doris Yaffe Shiffman).
Editorial Jigsaw (Barbara Gourlay).
Fielding Questions: The IgNobel Prizes (Barbara Thompson).
The Fine Art of Q&A (Barbara Gourlay).
The Greek Alphabet: Speaking in Symbols (Barbara Gourlay).
""International Teaching Assistant of the Year"" Speech (Kimberly Kenyon).
Mimicking American TA Discourse (Janet Goodwin).
Practicing Communication Strategies (Doris Yaffe Shiffman).
Presentation Summaries—Take Two! (Barbara Thompson).
Working with Authentic TA Discourse (Janet Goodwin).
Resources.
Index.
"Understanding why American students behave the way they do is critical in order for interactions with students to be effective and meaningful. The book identifies several areas of educational differences among cultures, raising readers' awareness and allowing them to avoid potential pitfalls of cross-cultural communication.
…Strategies for Teaching Assistant and International Teaching Assistant Development includes several ideas for exercises in articulating personal advising philosophies, prompting advisors to respond to questions regarding what characteristics are necessary in a good advisor and what kind of person would win an "Advisor of the Year" award.
With an open mind and a knack for modifying exercises, an imaginative advising mentor could easily use this book as a springboard for introducing new approaches to advisor development."
—NACADA Journal, Issue 30(1) (Spring 2010)